23-24 Season
Marie Barbottin, Catherine Verlaguet
LA CHAMBRE D'EAUX • Creation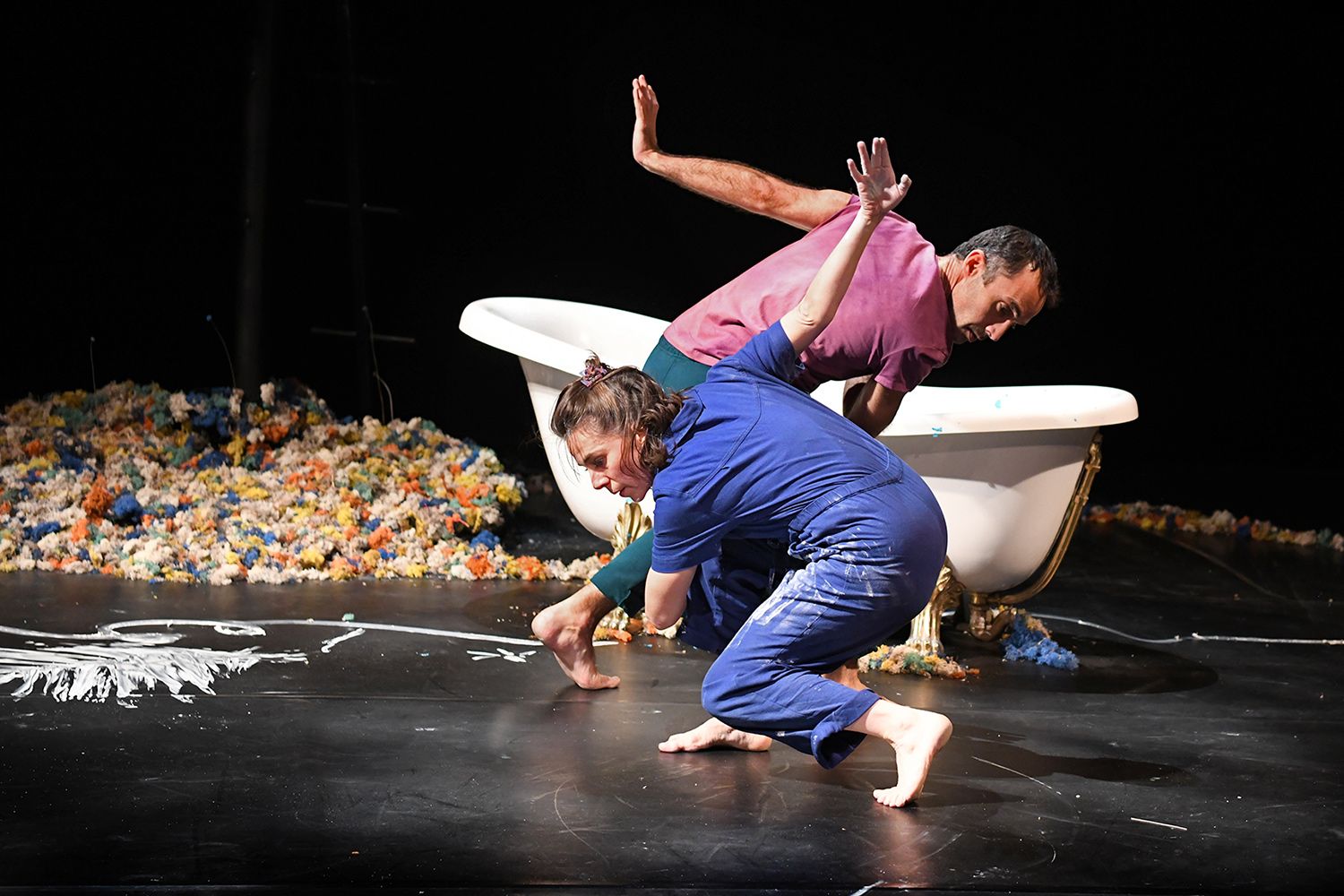 DANCE, SPOKEN WORD AND SIGN LANGUAGE TELL THE TALE OF A GIRL BORN IN A BATHTUB.
A girl or a boy? That is not the relevant question. Catherine Verlaguet, author of children's books, has written a text/score to accompany the living breath of a dancer and her tandem who interprets in sign language. The modern-day fable set around an old-fashioned bathtub takes the audience on a journey with the presence of bodies in a universe where no one has ever heard of gender stereotypes. Marie Barbottin moves from poetic images to great female punk voices, presenting her message of commitment as a woman, a mother and an artist.
Schedules
10:00, 11:00, 14:30, 15:00, 19:00
Accessibility
Spectacle bilingue français / LSF
Original idea & danse Marie Barbottin
Original text "Fille, c'est trop difficile" Catherine Verlaguet
Original text Fille, c'est trop difficile Catherine Verlaguet Dance & French sign language Yan Giraldou Sound design & performance Nicolas Martz, Alex Derouet Sound assistant Hervé Chaussard Assistant choreographer Laurie Giordano Assistant direction Estelle Savasta Stage preparation & voice-over Harold Savary Voice-over Hortense Belhôte Lighting Annie Leuridan Sets Vincent Lefèvre Costumes Aude Désigaux Translation French sign language Vivien Fontvieille-TIC 44 Adaptation French sign language Vincent Bexiga External consultants French sign language Simon Attia et Fanny Petit Maillot Drawing consultant Stéphan Helouin
---
BILINGUE FRENCH / French sign language
EXECUTIVE PRODUCTION Manège, scène nationale-Reims. COPRODUCTION L'Échangeur-CDCN Hauts-de-France, scène nationale d'Orléans – Côté Cour has a subsidy agreement for art, children and youth-Besançon – Le Volcan, scène nationale du Havre – Le Nouveau Relax-Chaumont – La Filature, scène nationale de Mulhouse – Les Hivernales-CDCN Avignon. WITH SUPPORT FROM Césaré Centre national de création musicale-Reims – CCN Ballet de l'Opéra national du Rhin - accueil studio.
Thu 2 May 2024
10:00 AM
From €8 to €16
Thu 2 May 2024
2:30 PM
From €8 to €16
Fri 3 May 2024
10:00 AM
From €8 to €16
Fri 3 May 2024
7:00 PM
From €8 to €16
Sat 4 May 2024
3:00 PM
From €8 to €16
Sat 4 May 2024
7:00 PM
From €8 to €16
Sun 5 May 2024
11:00 AM
From €8 to €16
Mon 6 May 2024
10:00 AM
From €8 to €16
Mon 6 May 2024
2:30 PM
From €8 to €16