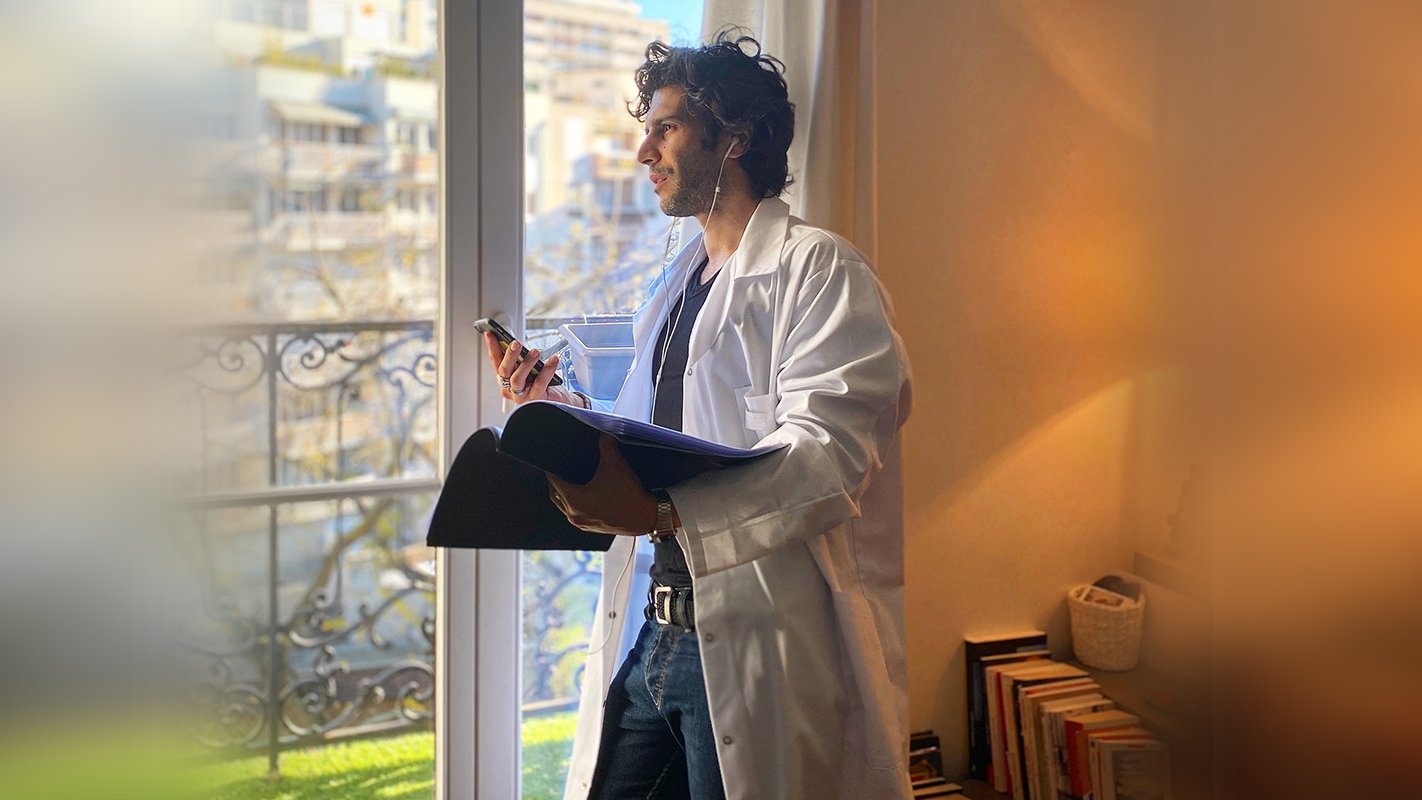 The Poetic Consultations, since march 2020
Since the first lockdown, more than 200 French and international artists - actors, musicians, dancers - as well as several renowned scientists have united under the direction of Demarcy-Mota to offer Poetic Consultations, first by phone, but also as soon as possible, with physical presence in the public space, hospitals, schools, universities and social centers.
A poetic consultation is a 20 minutes individual conversation with an artist. It begins with a simple question: "How are you?" Based on the answer a poem, a dance or a music is selected by the artist as a "poetic prescription" and read or performed, by phone, or in the streets and public gardens of the city, wherever possible.
Initiated as a means to fight isolation and preserve activities for artists during the first lockdown, the project has evolved in different forms, always remaining free of charge for the public.
To this date 25,000 people from all around the world have taken part, through partnerships in Europe, Asia and 10 countries in Africa where consultations are held during the pandemic period.
Poetic Consultations are proposed in 22 languages:
11 European languages: French, Italian, Romanian, Albanian, German, Hungarian, Greek, Spanish, English, Portuguese, Russian
---
7 African languages: Arabic (Egypt), Wolof, Beti, Lingala, Sango, Pidgin, Kongo
---
3 Asian languages: Mandarin, Japanese, Hebrew
---
As well as the French sign language (LSF), for deaf and hard of hearing people.
THE POETIC CONSULTATIONS BY PHONE
March 2020, Poetic Consultations are developed by telephone.
During the first lockdown in France, as the whole world faces a major health crisis, the Théâtre de la Ville, like many cultural establishments, has to close its doors. To maintain a living link between artists and the population, the Poetic Consultations are adapted to the constraints of the health crisis. Since face-to-face is no longer possible, they are held by telephone. To experience a consultation, one only needs to register free of charge on the Theatre's website, and an actor calls directly at the agreed time.
Launched in March 2020, the Poetic consultations by phone quickly become a great success. The telephone abolishes distances, actors call people all over the world: from Sydney to New Delhi, from Beirut to Dakar, Taipei, Chicago, Bogota....During the first lockdown, nearly 100 people are called every day, and thousands of poems are shared by more than 120 actors in individual 20-minute exchanges.
This international artistic ensemble is called "la Troupe de l'Imaginaire".
---
---
CLICK HERE TO REGISTER !
THE COMMUNITY OF ARTISTS : LA TROUPE DE L'IMAGINAIRE
An ensemble of 208 Artists, created during the pandemic since March 2020.
Artists are recruited by co-option. They come from different countries, are between 20 and 80 years old and come from various artistic backgrounds.
108 artists in France: 75 actors, 19 dancers, 14 musicians
Joined by 5 scientists and 5 doctors
90 artists in the world, in connection with partner cultural organisations in 17 countries
IN AFRICA - IN 9 COUNTRIES: Ivory Coast, Senegal, Congo, Cameroon, Democratic Republic of Congo, Central African Republic, Rwanda & Gabon
35 actors, 9 musicians, 7 dancers
IN EUROPE - IN 7 COUNTRIES: Italy, Germany, Romania, Estonia, Greece, Hungary, Irland.
18 actors, 5 dancers, 4 musicians
IN ASIA - in Taiwan
9 acteurs, 3 danseurs
The artists of the Troupe de l'Imaginaire offer poetic, musical and danced consultations in 22 languages.
Each artist, scientist and doctor has been met individually by Emmanuel Demarcy-Mota, director of the Théâtre de la Ville, and then introduced to the Consultations by an artist of the Troupe.
They take part in artistic actions accessible to everybody in the public space, in the heart of the city, and are involved in a solidarity program dedicated to people in precarious situations, patients in hospitals and youth in schools and universities.
THE CONSULTATIONS ABROAD
90 artists trained to Poetic Consultations in 17 countries.
Since their launch in France in March 2020, the consultations have developed around the world thanks to the support of numerous partner structures and institutions in Europe, Asia and Africa. The troupe de l'imaginaire now includes 90 foreign artists - actors, musicians or dancers - in 17 countries. These artists, all individually trained, are committed to the populations and offer poetic, musical or danced consultations to all, in the public space, in the heart of the cities.
8 partner structures in Europe
---
14 partner structures in Africa
---
1 partner structure in Asia
On 19 September 2021, the first international day of poetic consultations took place. More than 100 artists offered poetic, musical and dance consultations simultaneously in 10 cities around the world, on 3 continents.
---
---
In 2022, other artists and scientists from all over the world will join the Troupe de l'Imaginaire (United States, Tunisia, Chad, Canada, Turkey, Ireland...).
CONSULTATIONS WITH YOUTH
A solidarity program led by the Troupe de l'Imaginaire committed to introducing art and poetry to young people and fighting against the isolation of students.
The artists offer poetry workshops or theatre performances in primary schools and leisure centres. They also offer poetic, musical and danced consultations to university students. These proposals are also open to teachers, researchers and supervisors.
These actions are developed in partnership with Sorbonne-Université, the Cité Universitaire Internationale de Paris, the University of Paris, and numerous schools in conjunction with the City of Paris' Department of School Affairs.
More than 20 partner schools (primary, secondary and high schools)
---
all Sorbonne University campuses
---
all University of Paris campuses
---
the Cité Internationale Universitaire de Paris
CONSULTATIONS IN HOSPITALS AND SOCIAL STRUCTURES
A solidarity program designed to preserve connections with the most isolated.
Since december 2020, the artists of the troupe de l'imaginaire have been visiting patients in hospitals of APHP-Hopitaux de Paris every week, as well as people in emergency shelters, associations and child welfare centres. They are putting all their energy into forging links again, moving from poetic, danced and musical Consultations to artistic forms that are shared and reinvented on each occasion, in order to reach out to a vulnerable public.
These actions are set up thanks to the Direction de l'Action Sociale, de l'Enfance et de la Santé de la Ville de Paris & the Assistance Publique et Hôpitaux de Paris (AP-HP).
12 partner hospitals of the APHP-Hopitaux de Paris
---
more than 30 partner social centres of the city of Paris