Saison 2019-2020
Merce Cunningham
Pond Way / Walkaround Time / Cross Currents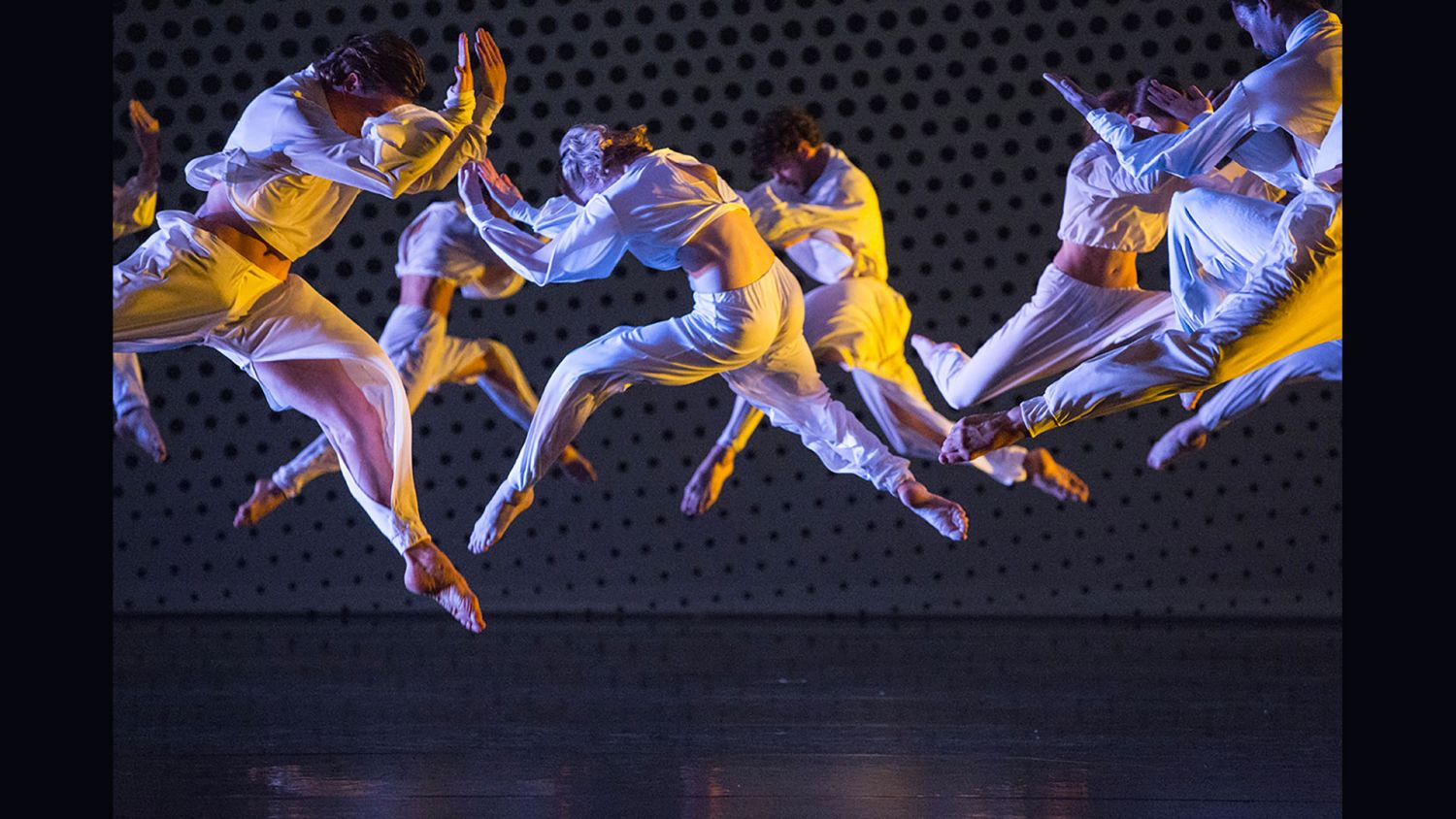 Three of the world's greatest ballet companies come together to celebrate the centennial of Merce Cunningham, inventor of modern choreography.
Since the death of Merce Cunningham (1919-2009) and the dissolution of his company — which the choreographer planned before his passing — the vitality of his work has constantly been in evidence. Today, every ballet company's repertory includes one or several pieces by the great Merce, who is increasingly seen as the most universal reference of dance in the 20th century. And yet this is an extraordinary tribute here offered to him by the three most prestigious companies in the world. The Ballet de l'Opéra de Paris is presenting "Walkaround Time", a collaboration between Merce Cunningham and the American visual artist Jasper Johns, who designed the set based on Marcel Duchamp's "The Large Glass". Opera Ballet Vlaanderen is performing "Pond Way" against a backdrop inspired by a famous Roy Lichtenstein painting, and the Royal Ballet of London will be here with "Cross Currents", which was originally performed by a legendary trio: Merce Cunningham, Carolyn Brown, and Viola Farber.
Thomas Hahn
Schedules
15:30, 19:45, 20:30
choreography Merce Cunningham
With , ,
Walkaround Time
MUSIC David Behrman (… for nearly an hour…) set design based on Marcel Duchamp (La Mariée mise à nu par ses célibataires, même, dit Le Grand Verre), originally supervised by Jasper Johns COSTUMES inspired by Jasper Johns lights Beverly Emmons restaged by Meg Harper & Jennifer Goggans with 9 dancers / Ballet de l'Opéra de Paris First performed on March 10, 1968 by the Merce Cunningham Dance Company at State University college of Buffalo, New York. Added to the repertory of the Ballet de l'Opéra de Paris on April 14, 2017 at the Opéra de Paris.
Cross Currents
MUSIC Conlon Nancarrow (Rhythm Studies for player piano) COSTUMES Merce Cunningham Lights Beverly Emmons restaged by Daniel Squire with 3 dancers / The Royal Ballet First performed on July 31, 1964 by the Merce Cunningham Dance Company at Sadler's Wells Theatre, London. Added to the repertory of The Royal Ballet on October 10, 2019 at the Royal Opera House, London.
Pond Way
MUSIC Brian Eno, New Ikebukuro (For 3 CD Players) set design Roy Lichtenstein (LANDSCAPE WITH BOAT) COSTUMES Suzanne Gallo lights David Covey restaged by Andrea Weber with 13 dancers / Opera Ballet Vlaanderen First performed on January 13, 1998 by the Merce Cunningham Dance Company at the Palais Garnier, Opéra National de Paris. Added to the repertory of the Royal Ballet of Flanders on October 22, 2016 at the Ghent Opera (Belgium).
Tue 22 Oct 2019
8:30 PM
15 à 42 €
Wed 23 Oct 2019
8:30 PM
15 à 42 €
Thu 24 Oct 2019
7:45 PM
15 à 42 €
Fri 25 Oct 2019
8:30 PM
15 à 42 €
Sat 26 Oct 2019
3:30 PM
15 à 42 €
Sat 26 Oct 2019
8:30 PM
15 à 42 €