Saison 2021-2022
Maguy Marin
Y aller voir de plus près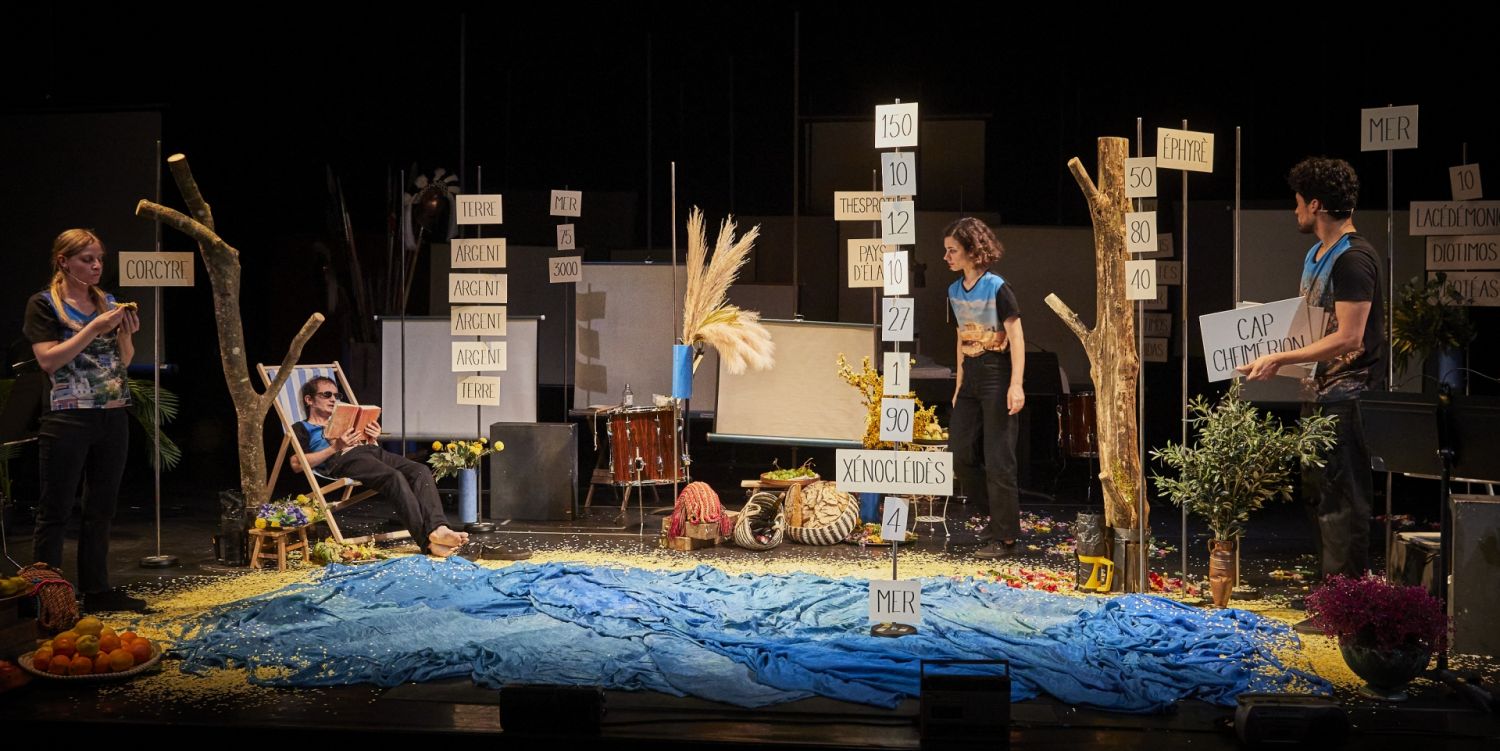 Maguy Marin, choreographer, humanist and philosopher, has embarked on a salutary contemplation of war and violence, in a performance of critical importance.
Maguy Marin defies definition, rebelling and fighting, while also being a poet and philosopher, in other words, indispensable. Present throughout her work is the idea of a Utopian world with greater social and political justice. She is both lucid and committed as she challenges the way we approach history, looking at mechanisms that drive human society to violence and towards inhumanity. Starting with the Athenian historian and philosopher Thucydides, critical investigation is developed on the question of avoiding war, following the enlightened perspectives of thinkers who experienced and analyzed violence perpetrated by humans in times past. On stage, two women and two men guide the audience through the venture in a bid to gain a better understanding of how the urge to destroy can prevail over natural empathy.
---
Chaque soir à 19h30 et dimanche 24 octobre en matinée à 14H30, nous vous proposons une introduction par Daniel Loayza, qui donnera des éléments de contexte sur La Guerre du Péloponnèse de l'historien athénien Thucydide, sujet même du spectacle de Maguy Marin.
Ancien élève de l'ENS et professeur agrégé de lettres classiques, Daniel Loayza a notamment traduit Eschyle, Sophocle ou Platon. Au théâtre, il collabore régulièrement avec Georges Lavaudant.
CONCEPTION Maguy Marin
FILM DAVID MAMBOUCH, ANCA BENE // MAQUETTES PAUL PEDEBIDAU // ICONOGRAPHIE LOUISE MARIOTTE, BENJAMIN LEBRETON // CONCEPTION SONORE & MUSICALE DAVID MAMBOUCH // LUMIÈRE ALEXANDRE BÉNETEAUD // ASSISTÉ DE KIMBERLEY BERNA-COTINET // SON CHLOÉ BARBE // SCÉNOGRAPHIE BALYAM BALLABENI, BENJAMIN LEBRETON // ASSISTÉS DE CÔME HUGUENY // COSTUMES NELLY GEYRES // TRAVAIL DE VOIX EMMANUEL ROBIN
EN ÉTROITE COLLABORATION & AVEC ANTOINE BESSON, KAIS CHOUIBI, DAPHNÉ KOUTSAFTI, LOUISE MARIOTTE
Thu 21 Oct 2021
8:00 PM
10 € to 30 €
Full
Tickets on sale on-site before each performance.*
Fri 22 Oct 2021
8:00 PM
10 € to 30 €
Full
Tickets on sale on-site before each performance.*
Sat 23 Oct 2021
8:00 PM
10 € to 30 €
Full
Tickets on sale on-site before each performance.*
Sun 24 Oct 2021
3:00 PM
10 € to 30 €
Full
Tickets on sale on-site before each performance.*
Tue 26 Oct 2021
8:00 PM
10 € to 30 €
Full
Tickets on sale on-site before each performance.*
Wed 27 Oct 2021
8:00 PM
10 € to 30 €
Full
Tickets on sale on-site before each performance.*
Thu 28 Oct 2021
8:00 PM
10 € to 30 €
Full
Tickets on sale on-site before each performance.*
Fri 29 Oct 2021
8:00 PM
10 € to 30 €
Full
Tickets on sale on-site before each performance.*
*Within available seats limit