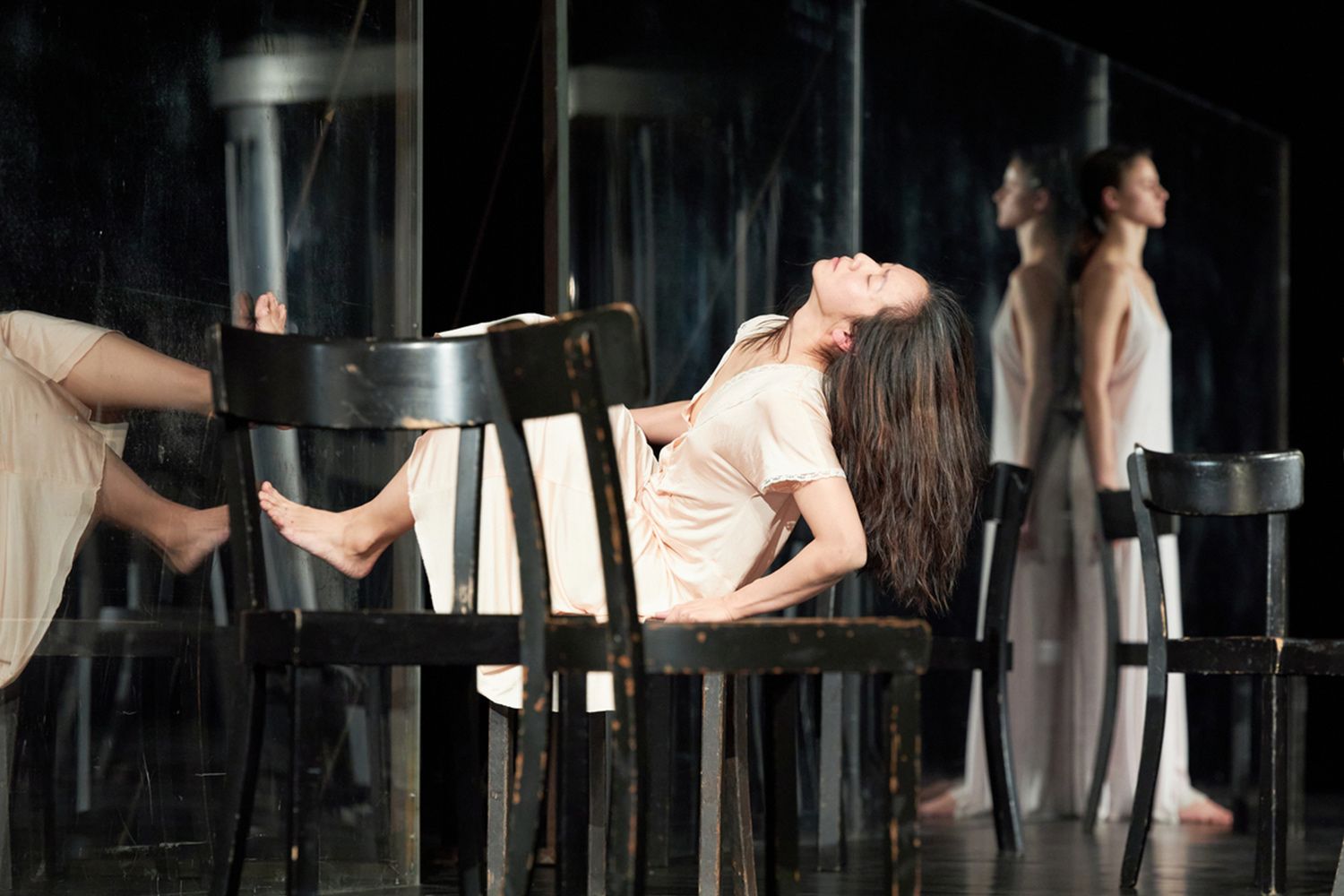 The soul and essence of Pina Bausch, in an everlasting ode aspiring to life. A symphony of emotions extolling the need for love.
Café Müller is one of the founding elements in the landscape of dance and the history of 20th century dance. It is timeless in beauty and stands as a turning point in the work of Pina Bausch, moving towards things real, to everyday life. Today former and new members of the company are bringing the work as a shared offering, and there is also the soul of the choreographer who continued to perform it until 2008, just one year before she died, the soul that is palpably present, as it is in all and any of her other works. Bodies collapse, feelings are profound, and there is the gentle melancholy of Purcell's Arias, combining to mark the memory, in the light of our hearts, desiring and so fragile.
---
PREMIERE MAY 20 1978. CAFÉ MÜLLER WAS PERFORMED AT THE THÉÂTRE DE LA VILLE IN FEBRUARY 1982, APRIL 1985, AND JUNE 1993
Schedules
17:00, 19:00, 21:00
DIRECTION & CHOREOGRAPHY Pina Bausch Tanztheater Wuppertal
MUSIC HENRY PURCELL / STAGE & COSTUMES ROLF BORZIK
WITH THE DANCERS OF THE TANZTHEATER WUPPERTAL PINA BAUSCH
ARTISTIC DIRECTION BORIS CHARMATZ
DIRECTION ADMINISTRATIVE ROGER CHRISTMANN
DROITS DE REPRÉSENTATION Verlag der Autoren, Frankfurt am Main, représentant la Pina Bausch Foundation. AVEC LE SOUTIEN DE Dance Reflections by Van Cleef & Arpels. CORÉALISATION Théâtre de la Ville-Paris – La Villette, Paris.
Thu 6 Jul 2023
5:00 PM
15 € à 40 €
Thu 6 Jul 2023
7:00 PM
15 € à 40 €
Thu 6 Jul 2023
9:00 PM
15 € à 40 €
Fri 7 Jul 2023
5:00 PM
15 € à 40 €
Fri 7 Jul 2023
7:00 PM
15 € à 40 €
Fri 7 Jul 2023
9:00 PM
15 € à 40 €
Sat 8 Jul 2023
5:00 PM
15 € à 40 €
Sat 8 Jul 2023
7:00 PM
15 € à 40 €
Sat 8 Jul 2023
9:00 PM
15 € à 40 €
Mon 10 Jul 2023
7:00 PM
15 € à 40 €
Mon 10 Jul 2023
9:00 PM
15 € à 40 €
Tue 11 Jul 2023
7:00 PM
15 € à 40 €
Tue 11 Jul 2023
9:00 PM
15 € à 40 €
Wed 12 Jul 2023
7:00 PM
15 € à 40 €
Wed 12 Jul 2023
9:00 PM
15 € à 40 €