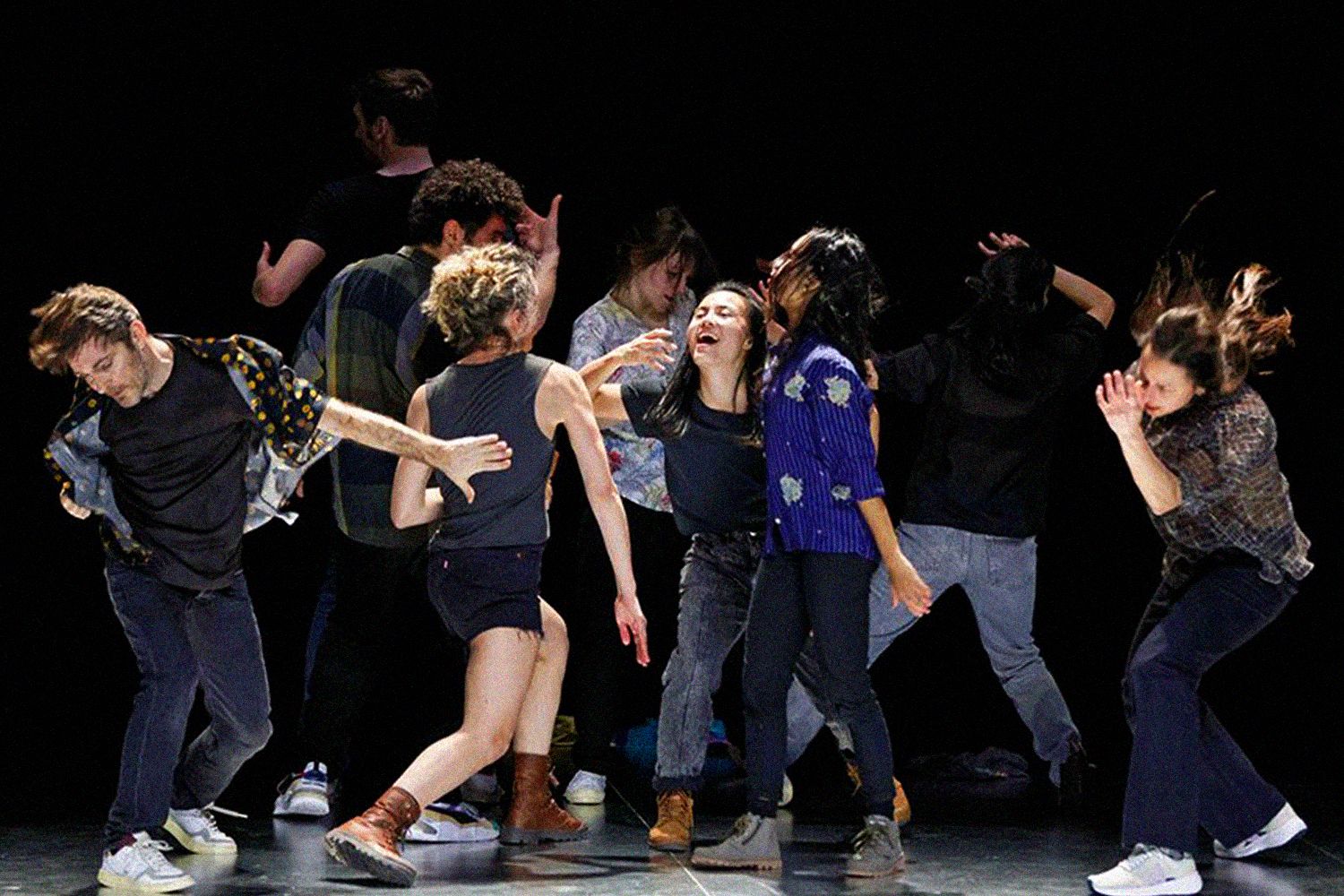 Nine dancers covering the ins and outs and the power of mass movements around the world.
When large groups of people gather in public spaces they generate collective movements and actions, plus large-scale energy. Crowds raise their arms, brandish their fists, sing and chant, with their bodies in a state of tension, overheating.
Joanne Leighton has used snapshots taken at protest marches and celebrations to address the bonds between individuals when defying authority, or when caught up in musical fervor and excitement. Starting with photos, People United investigates the exaltation and the way such a climax is reached, responding to pictures of real-life situations to pay a vibrant tribute to collective energy.
CHOREOGRAPHY & DIRECTION Joanne Leighton
ASSISTANT MARIE FONTE / SOUND DESIGN PETER CROSBIE / COSTUMES ALEXANDRA BERTAUT / LIGHT SCENOGRAPHY SYLVIE MÉLIS / SCENOGRAPHY JOANNE LEIGHTON
WITH LAUREN BOLZE, MARION CARRIAU, ALEXANDRE DA SILVA, MARIE FONTE, YANNICK HUGRON, PHILIPPE LEBHAR, MAUREEN NASS, THALIA PROVOST, BI-JIA YANG
PRODUCTION WLDN. COPRODUCTION Espace 1789 de Saint-Ouen, scène conventionnée d'intérêt national art et création pour la danse – Les Quinconces-L'espal, scène nationale duMans – Collectif Essonne Danse – Chorège, CDCN Falaise Normandie – Atelier de Paris, CDCN – CCN de Rillieux-la-Pape, direction Yuval Pick – CCN Ballet national de Marseille – L'Onde Théâtre Centre d'Art, Vélizy - Villacoublay. AVEC LE SOUTIEN DE Carreau du Temple, Paris – La Briqueterie, CDCN du Val-de-Marne – L'Essieu du Batut – Chaillot, Théâtre national de la Danse.
Tue 15 Nov 2022
8:00 PM
10 € à 26 €
Full
Tickets on sale on-site before each performance.*
Wed 16 Nov 2022
8:00 PM
10 € à 26 €
Full
Tickets on sale on-site before each performance.*
Thu 17 Nov 2022
8:00 PM
10 € à 26 €
Full
Tickets on sale on-site before each performance.*
Fri 18 Nov 2022
8:00 PM
10 € à 26 €
Full
Tickets on sale on-site before each performance.*
Sat 19 Nov 2022
8:00 PM
10 € à 26 €
Full
Tickets on sale on-site before each performance.*
*Within available seats limit