Saison 2018-2019
Andréya Ouamba
De quoi sommes-nous faits ?!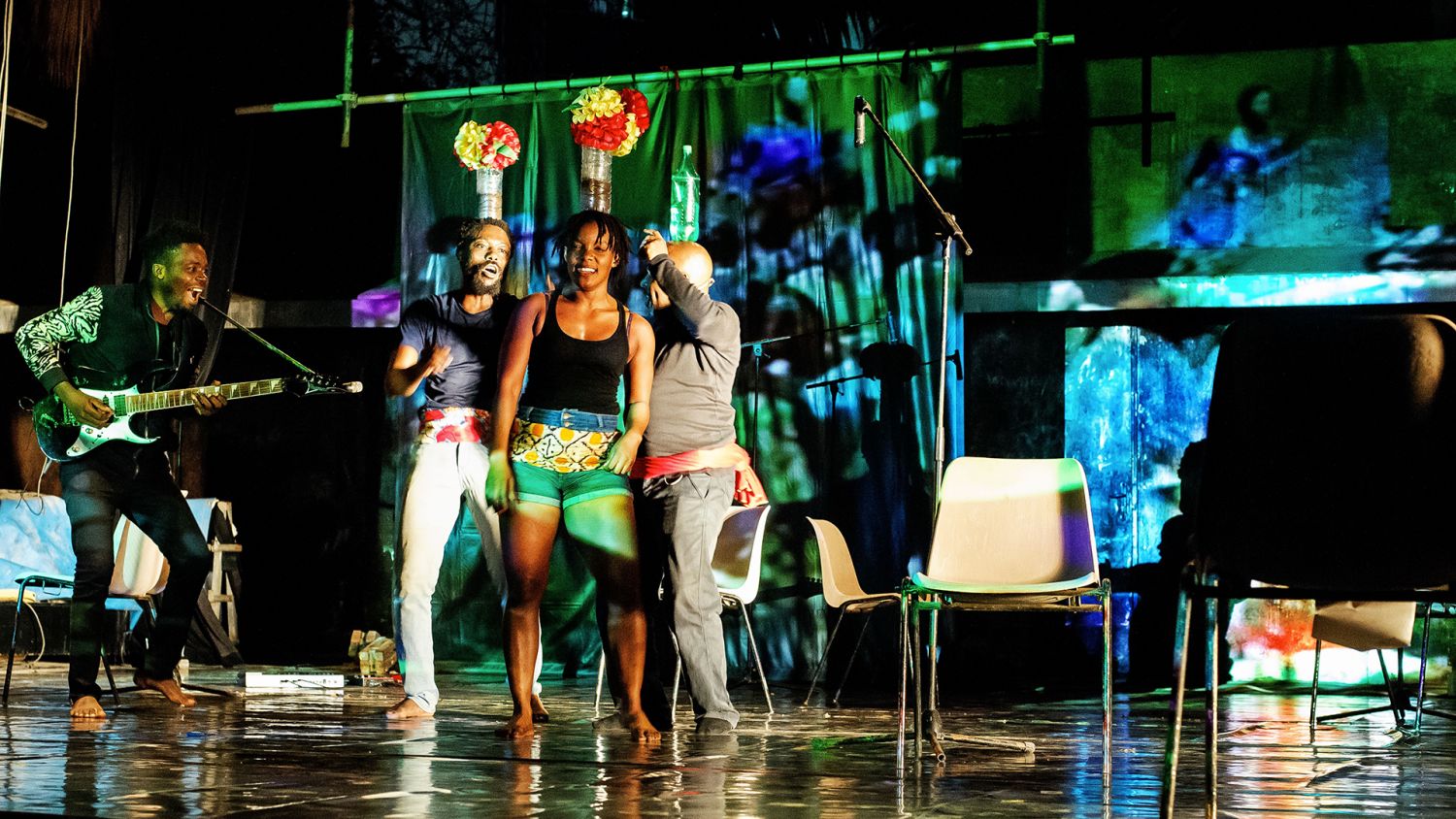 Is the cult of an authoritarian head of state related to the one of the family patriarch? Andreya Ouamba lucidly and finely questions his relationship to his father, in a Congolese rumba mood.
From a childhood memory, Andreya Ouamba extracts the marrow of a reflection about the power of fathers, the heritage of the chiefs, questioning the themes of respect, authority and transmission. In 1993, in full political crisis in Congo, the young choreographer visited some friends in the North of Brazzaville. Stuck there, he tried to go back home risking to run into dangerous militia: his father's fear was far more important than the actual danger. Around these few facts, the dancer begins a lucid meditation about the intimate construction of an individual and a society. He embodies this philosophical challenge with a dancer, Clarisse Sagna, a guitarist, Press Mayindou, an author, Kouam Tawa, and a director, Catherine Boskowitz, in an original "solo with several people" form where words resound to a rumba soundtrack.
design and direction Andréya Ouamba
TEXT Kouam Tawa ORIGINAL MUSIC Press Mayindou DIRECTION Catherine Boskowitz SET DESIGN & VIDEO Jean-Christophe Lanquetin LIGHTING DESIGN Cyril Givort SET DESIGN ASSISTANT Arnaud Grandjean WITH Andréya Ouamba, Clarisse Sagna, Kouam Tawa & Press Mayindou guitar
Wed 10 Oct 2018
8:00 PM
10 à 26€
Thu 11 Oct 2018
8:00 PM
10 à 26€
Fri 12 Oct 2018
8:00 PM
10 à 26€
Sat 13 Oct 2018
8:00 PM
10 à 26€