Saison 2021-2022
Camille Mutel, Mathilde Rance
Not I / Black Bird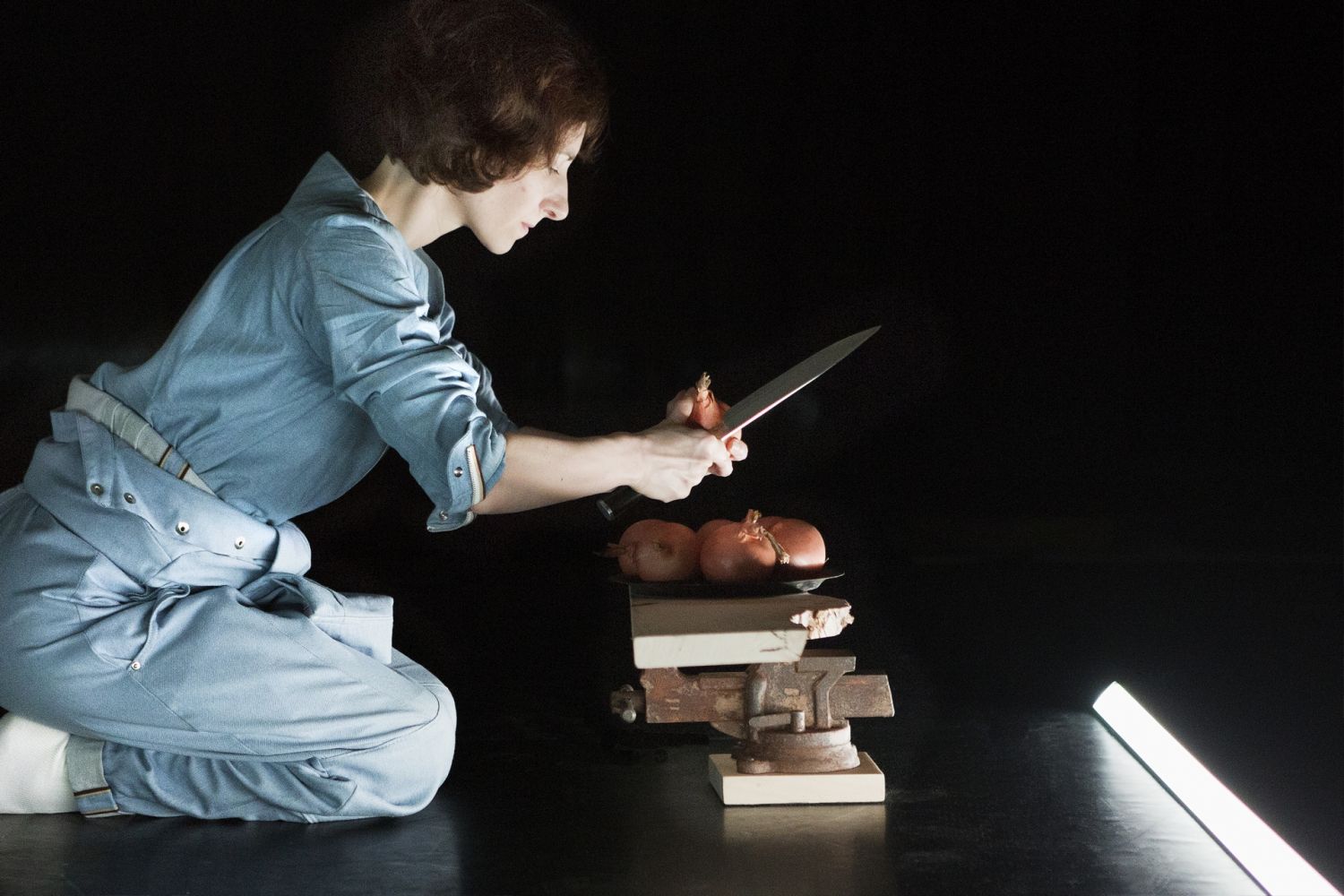 Two unlikely ceremonies, two transcultural rituals for the female gender.
Camille Mutel, with inspiration from the traditional tea ceremony, has invited a few guests to a ritual sharing in fish, onion and wine. Both geisha and samurai, she carves out postures covering an infinite range of everyday actions, broken into component parts. Attention is forcibly focused on the slightest detail as she prepares a symbolic meal, part Japanese, part still life, operating as a private exchange.
Mathilde Rance is the one-woman band stirring up legacies from past millennia, from bacchanales, troubadours, circus animals and carnivals. As a poet and also a dragon sheltering beneath the wings of the ibis-headed Egyptian god Thoth, she turns herself into a sorcerer, a flamenco she-wolf and a monster musician, producing sound from the harp, Sufi percussion instruments and the slide trombone. The ceremony of the she-dragon poet, moving between dance and acoustic incanta¬tions, offers a joyous cabaret of fantasy.
Camille Mutel, Mathilde Rance
Not I
DRAMATURGIE THOMAS SCHAUPP // LUMIÈRES PHILIPPE GLADIEUX // DESIGN & COSTUMES KASPERSOPHIE // SON JEAN-PHILIPPE GROSS
CONCEPTION, CHORÉGRAPHIE & INTERPRÉTATION CAMILLE MUTEL
---
Black Bird
REGARD EXTÉRIEUR SANDRA ABOUAV // CONSEILS MUSICAUX PAUL RAMAGE
CONCEPTION, CHORÉGRAPHIE, CRÉATION MUSICALE, COSTUMES & INTERPRÉTATION MATHILDE RANCE
Tue 12 Apr 2022
8:00 PM
10 € to 22 €
Wed 13 Apr 2022
8:00 PM
10 € to 22 €
Thu 14 Apr 2022
8:00 PM
10 € to 22 €
Fri 15 Apr 2022
8:00 PM
10 € to 22 €
Sat 16 Apr 2022
3:00 PM
10 € to 22 €