Saison 2022-2023
KillT / Ki lira le texte
Malte Martin, Yann Verburgh, Olivier Letellier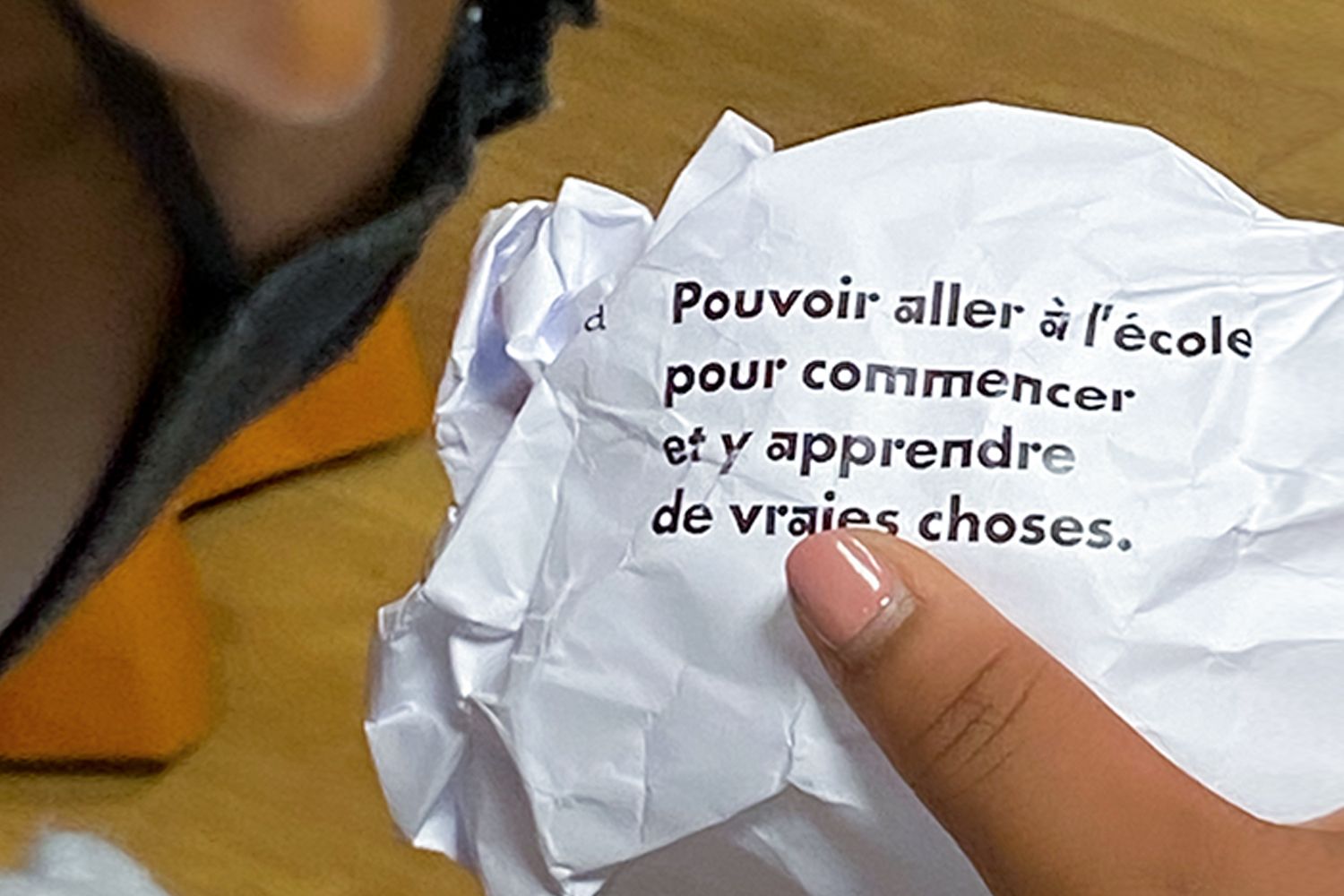 Setting off for a great game, engulfed in words, reading out loud, for others, and totally involved.
An actor becomes the guide conveying texts to the audience. Words can bounce around, be caught like a ball; roles can be reversed so that reading is not always a solo exercise. Words are everywhere: on the walls, on a map, on a hand, following an itinerary for drama and visual effects with the fun of KILLT [Who'll read the text] as written by Yann Verburgh.
The joy of reading is everywhere, for everyone, solo or in chorus, with an original invitation to indulge in the joy of reading.
Schedules
10:00, 11:00, 14:30, 16:30
VISUAL INSTALLATION Malte Martin
BASED ON LES RÈGLES DU JEU BY Yann Verburgh
DIRECTION Olivier Letellier
SOUND ANTOINE PROST
WITH ANTOINE BOUCHER, ANGÈLE CANU, NATHAN CHOUCHANA, JÉRÔME FAUVEL, AURÉLIE RUBY, JONATHAN SALMON
PRODUCTION Théâtre du Phare puis Tréteaux de France, Centre dramatique national itinérant, direction Olivier Letellier. COPRODUCTION Maison du Geste et de l'Image – Points Communs, scène nationale de Cergy – Ville de Fontenay-sous-Bois – Le Grand T, Nantes – La Filature - scène nationale, Mulhouse – La Manufacture, CDN de Nancy. Olivier Letellier est artiste associé au Théâtre de la Ville-Paris. CORÉALISATION Théâtre de la Ville-Paris – MPPA.
Mon 12 Dec 2022
2:30 PM
5 € à 10 €
Full
Tickets on sale on-site before each performance.*
Tue 13 Dec 2022
10:00 AM
5 € à 10 €
Full
Tickets on sale on-site before each performance.*
Tue 13 Dec 2022
2:30 PM
5 € à 10 €
Full
Tickets on sale on-site before each performance.*
Fri 16 Dec 2022
10:00 AM
5 € à 10 €
Full
Tickets on sale on-site before each performance.*
Sun 18 Dec 2022
11:00 AM
5 € à 10 €
Full
Tickets on sale on-site before each performance.*
Sun 18 Dec 2022
4:30 PM
5 € à 10 €
Full
Tickets on sale on-site before each performance.*
*Within available seats limit