Saison 2022-2023
La Morsure de l'âne
Nathalie Papin, Émilie le Roux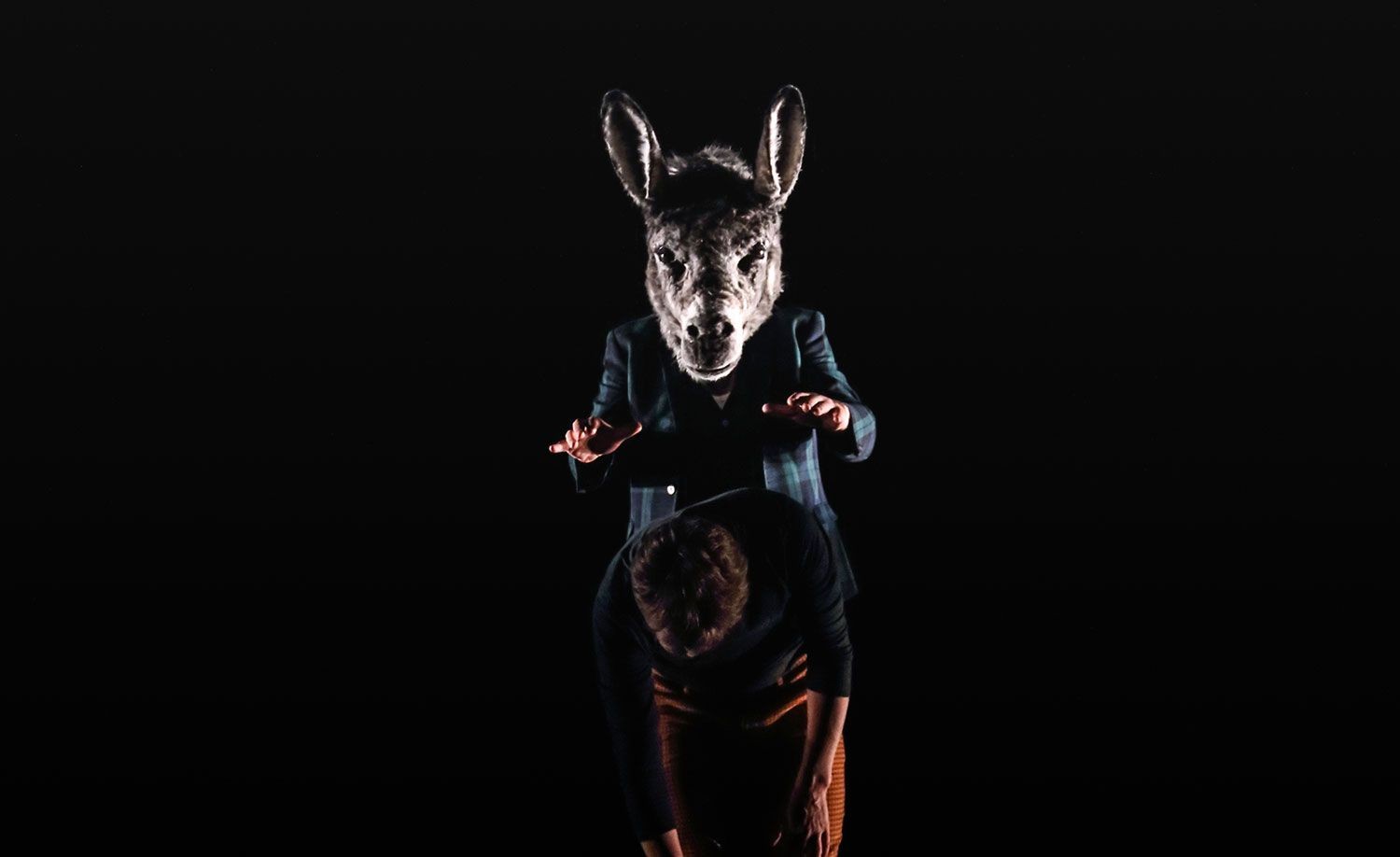 Paco and his fantastic tribulations, somewhere between dreamland, the real world, and an escape.
What has happened? Paco has no idea of where he is or what has happened. He is lost a strange country where he has run into a donkey who has nipped him on the behind. And Uriel, his son, has grown up and does not need him any more; and there is a little girl he has never seen before who is asking him to be her father. He has also encountered his own body that is trying to get away from him. So what path should he take? The Donkey's Bite is a lighthearted and entertaining look at very serious questions on the meaning of life.
Schedules
10:00, 14:30, 15:00, 19:00
Author Nathalie Papin DIRECTION Émilie le Roux
DIRECTOR'S ASSISTANT FANNY DUCHET / SCENOGRAPHY STÉPHANIE MATHIEU / LIGHTING ÉRIC MARYNOWER / SOUND GILLES DAUMAS / MUSIC PERFORMED BY THÉO CECCALDI (VIOLIN), MANON GILLARDOT (CELLO), ROBERTO NEGRO (PIANO), VALENTIN CECCALDI (ADVISOR) / RECORDING & MIXING MATHIEU PION / VIDEO PIERRE REYNARD / COSTUMES LAËTITIA TESSON / STAGE SET CONSTRUCTION NICOLAS PICOT / SET WORKSHOPS OF THE TMG, PIERRE PLOTEAU
WITH DOMINIQUE LAIDET, LOU MARTIN-FERNET, MARTINE MAXIMIN, JONATHAN MOUSSALLI, NAJIB OUDGHIRI
COPRODUCTION La MC2 : Maison de la culture, scène nationale de Grenoble – La Comédie de Béthune, Centre dramatique national – Théâtre de la Ville-Paris – La Minoterie, scène conventionnée Art, enfance, jeunesse, Dijon – TMG [Ateliers de décors]. AVEC LE SOUTIEN DE Espace 600, scène ressource en Isère & scène régionale Auvergne-Rhône-Alpes, Grenoble – La Saison Jeune Public, ville de Nanterre – Festival Petits & Grands, Nantes – L'heure bleue, scène régionale Auvergne-Rhône-Alpes, Saint-Martin-d'Hères – département de l'Isère – Spedidam. Les veilleurs [compagnie théâtrale] est conventionnée par la DRAC Auvergne-Rhône-Alpes et la région Auvergne-Rhône-Alpes, la ville de Grenoble, et soutenue par le département de l'Isère. Le texte La Morsure de l'âne est édité par l'École des loisirs Théâtre, 2008.
Tue 22 Nov 2022
7:00 PM
5 € à 16 €
Wed 23 Nov 2022
10:00 AM
5 € à 16 €
Wed 23 Nov 2022
3:00 PM
5 € à 16 €
Thu 24 Nov 2022
10:00 AM
5 € à 16 €
Thu 24 Nov 2022
2:30 PM
5 € à 16 €
Fri 25 Nov 2022
2:30 PM
5 € à 16 €
Sat 26 Nov 2022
3:00 PM
5 € à 16 €