23-24 Season
LE CHEMIN DU WOMBAT AU NEZ POILU
Joanne Leighton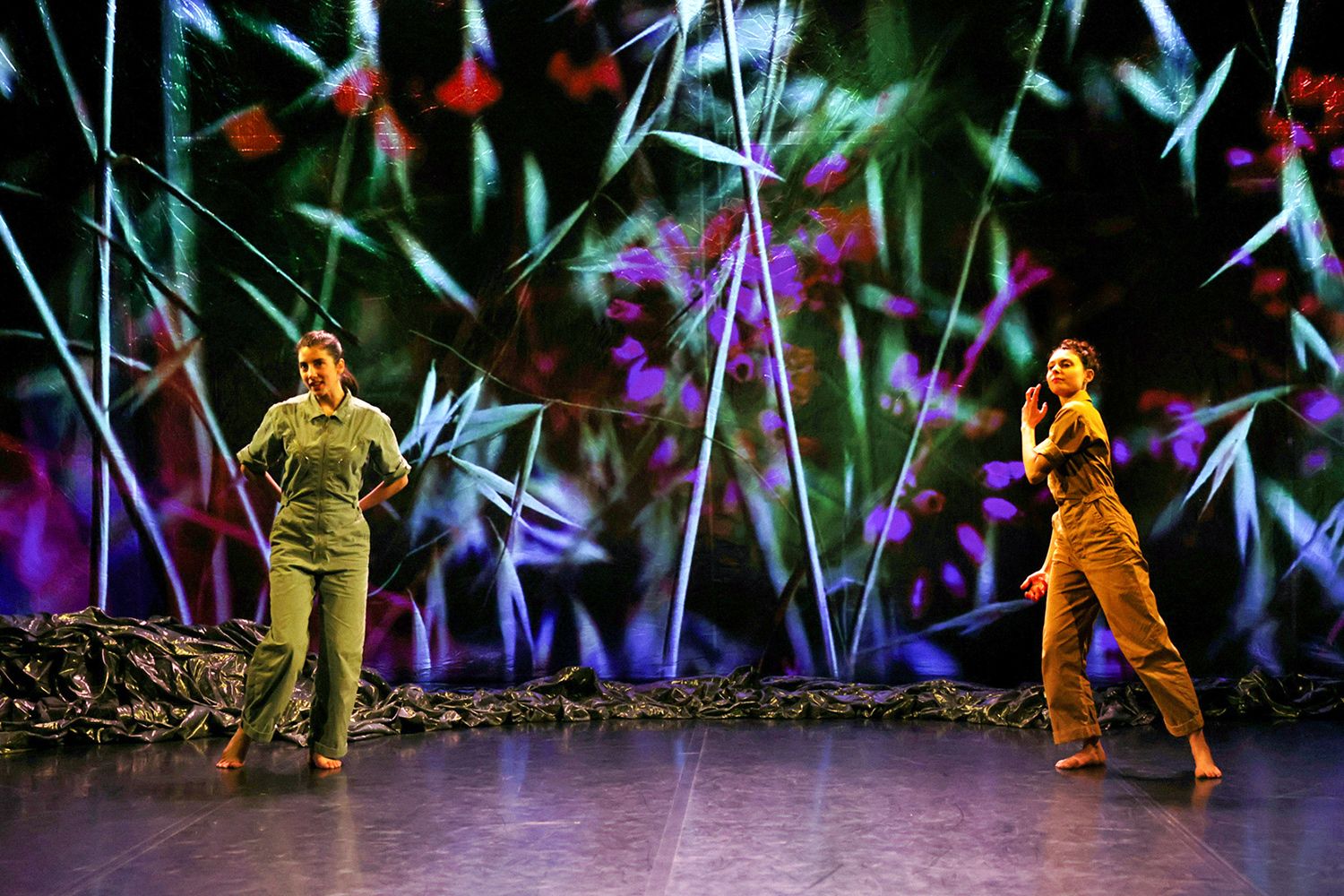 A JOURNEY THROUGH ELEMENTS SOLAR AND MINERAL IN AUSTRALIA, WITH DANCE, NARRATION AND VIDEO, LEAVING SCOPE FOR YOUNG MEMBERS OF THE AUDIENCE TO BE ACTORS.
Wombats look like small squat bears, and some say they are the cutest marsupials. Wombat is a word from an aboriginal language in Australia where Joanne Leighton was born and where she has found so much inspiration in the ancient cultures of the peoples. In the Path of the Hairy-Nosed Wombat there is awareness of ecological issues as the path takes in legends, stories and textile landscapes, weaving threads between members of the audience as they develop their sense of being attentive to and aware of others. Operating through the spirit of the wombat, they travel along paths of enchantment in the company of the Crested Whale, the Rainchild and the Eucalyptus-Woman.
Schedules
10:00, 11:00, 14:30, 15:00, 19:00
Chorégraphie, direction Joanne Leighton
WLDN
Original music Peter Crosbie Artistic collaborator Marie Fonte Texts Marie Fonte, Flore Khoury, Joanne Leighton, Marie Tassin Video Flavie Trichet-Lespagnol Lighting & scenography Romain de Lagarde
With Flore Khoury & Marie Tassin
PRODUCTION WLDN. COPRODUCTION Le ZEF, scène nationale de Marseille – L'Échangeur, CDCN de Château-Thierry – Théâtre de Saint-Quentin-en-Yvelines, Scène nationale – Centre chorégraphique national de Tours, direction Thomas Lebrun, Saint-Quentin-en-Yvelines, Terre d'innovations – Théâtre Jacques Carat, Cachan – Chorège, CDCN Falaise Normandie.
Fri 22 Mar 2024
7:00 PM
From €10 to €16
Sat 23 Mar 2024
11:00 AM
From €10 to €16
Sat 23 Mar 2024
3:00 PM
From €10 to €16
Tue 26 Mar 2024
10:00 AM
From €10 to €16
Wed 27 Mar 2024
10:00 AM
From €10 to €16
Wed 27 Mar 2024
3:00 PM
From €10 to €16
Thu 28 Mar 2024
10:00 AM
From €10 to €16
Thu 28 Mar 2024
2:30 PM
From €10 to €16
Fri 29 Mar 2024
10:00 AM
From €10 to €16
Fri 29 Mar 2024
7:00 PM
From €10 to €16