Ambra Senatore
choreographer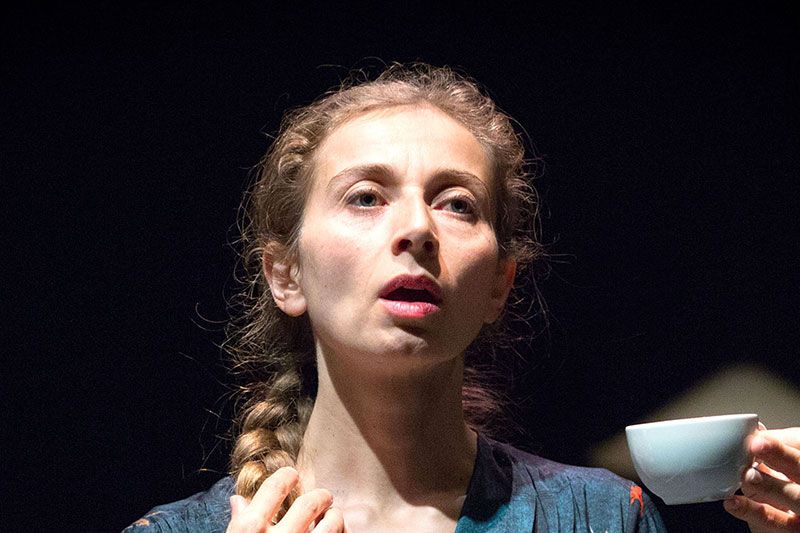 Ambra Senatore, the choreographer and performer originally from Turin in Italy, has been director of the National Choreography Center in Nantes, France, since 2016. Her art of dance is set at the delicate intersection between construction of action, fiction in rehearsal and authenticity of presence. The expression of movement is based in everyday life but observed through a microscope which she can shift and reverse until movement becomes fiction, until dance becomes theater. Ambra Senatore enjoys surprises, cuts, and repetition, with a view reminiscent of the cinema as she takes reality to produce a new composition, approaching it from a filmmaker's perspective. The eyes of the audience are guided in such a way that they then take elements of choreographic substance and carefully sown clues to bring the puzzle together. Such an art of juggling situations to the point of the absurd suggests a gentle touch of irony.
In Italy she studied with artists such as Roberto Castello and Rafaella Giordano, and soon began working with them. As a performer she has been seen with Jean-Claude Gallotta, Giorgio Rossi, Georges Lavaudant, and Antonio Tagliarini. By the late 1990s, she had started creating original works in collaboration with others. In 2004 she completed her doctorate on contemporary dance, and then taught the history of dance in Milan.
Between 2004 and 2009 Ambra Senatore focused her choreographic research on solo works, performing EDA-solo, Merce, Informazioni Utili, Altro piccolo progetto domestico, and Magli, then went on to group works, with Passo (2010) in one version for duo and another for quintet, A Posto (2011) for three female dancers, and John (2012).
In 2012 she founded her company EDA, in Besançon, France, and did the choreography for her first work specifically designed for young audiences, based on a text by Fabrice Melquiot: Nos amours bêtes (2013). This was followed by Quante Storie (2016) as part of the concept "Au pied de la lettre" and was composed in mirror form with Loïc Touzé.
At the 2014 Lyon Biennale she presented Aringa Rossa, a work for nine dancers featuring porté movements, duos, and reenactments of tableaux. After Pièces (2016), the 2017 Festival d'Avignon premiered Scena madre, a work for seven dancers where she offered a challenge to filmmaking codes.
When Ambra Senatore took over as director of the CCN (National Choreography Center) in Nantes in January 2016, she brought her human approach to dance, and her way of opening up to people and places. In Nantes and elsewhere she presented original works in situ, i.e. in schools (Petits pas et Pas au tableau) and heritage venues and museums (Promenade), developing new contacts, as with Primavera, Festival Trajectoires, the choreography for the dance interludes in Jules Massenet's Cendrillon at the Théâtre Graslin (Angers Nantes Opera), and initiating Conversations, an open dialogue with dance (2019) featuring personalities and residents, the idea being to understand how dance can be involved in discussions of relevance to society today.
In 2018, working together with the choreographer Marc Lacourt, they devised Giro di pista, a ball with children and families participating; and in 2021 they presented the duo Il nous faudrait un secrétaire. In parallel Ambra Senatore produced the original work Partita (2020), a series of duos for a dancer and a musician performing live, and invited the artists who first performed her work Passo to come together for Col tempo.