Theater / Chantiers d'Europe
Birdie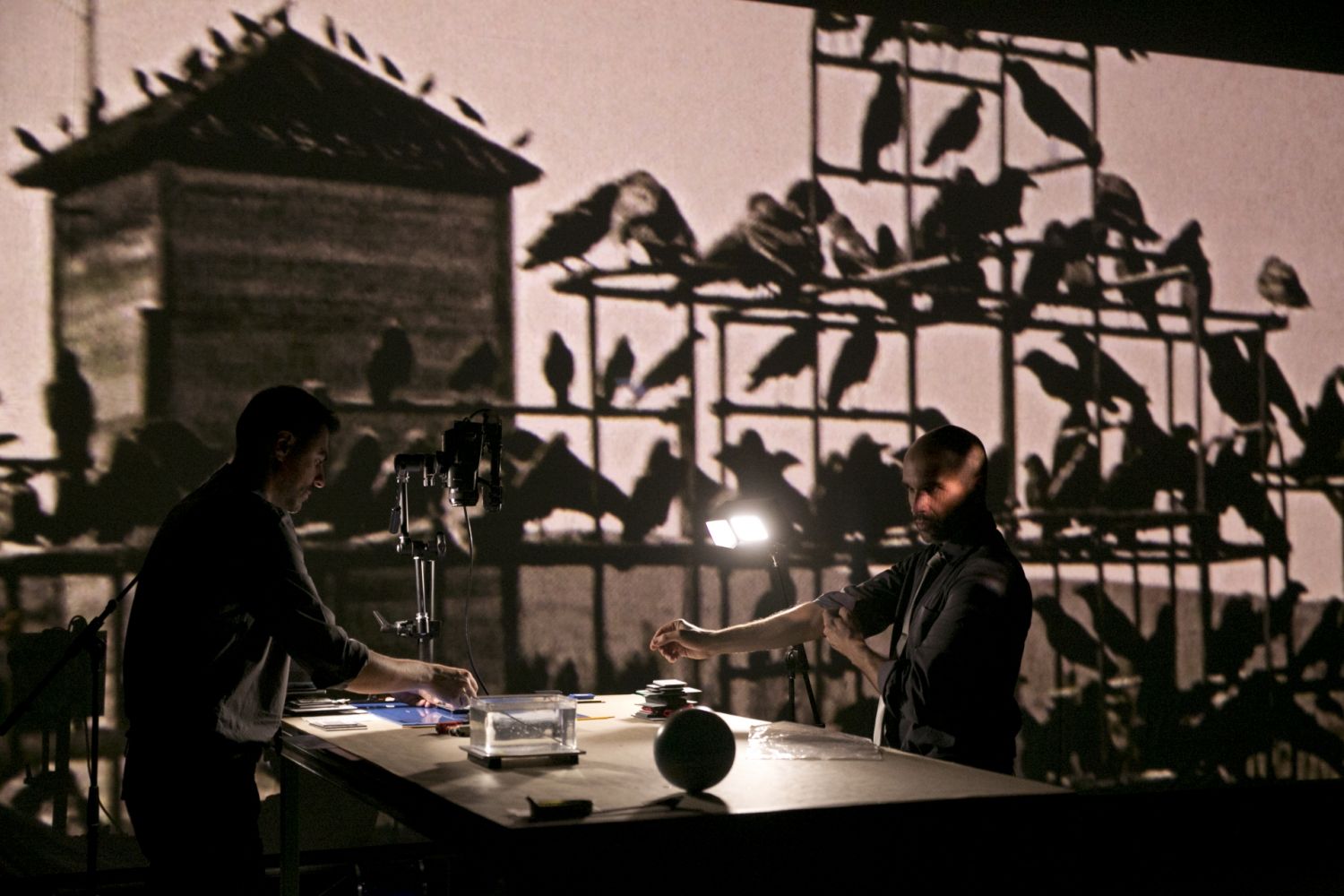 Place
Language
In Spanish
Overtitled in French



North African Spanish enclave of Melilla, Morocco; two golf players on a green; they don't pay any attention to a group of migrants trying to hop the fence of the golf course. These images are screened and mixed live on stage with excerpts from Alfred Hitchcock's masterpiece "The Birds". Fear of the "invasion" versus permanence of migratory flows that built the history of humanity.
Agrupación Señor Serrano, founded in 2006 in Barcelona by Àlex Serrano, builds images through the ingeniosity of a device where miniature becomes a fresco and the metaphor of a disrupted world.
Prized with the 2015 Silver Lion at the Biennale of Venice, Agrupación Señor Serrano was founded in 2006 in Barcelona by Àlex Serrano who studied both direction and interactive communication. His shows, dealing with contemporary issues, mix performance, texts, video, music and models.
Country Spain
By Agrupación Señor Serrano Creation Ferran Dordal, Paul Palacios, Àlex Serrano Project Manager Barbara Bloin creation enlightenment & video Alberto Barberá sound creation & soundtrack Roger Costa Vendrell Video realization Vicenç Viaplana Model Saray Ledesma, Nuria Manzano Costumes Nuria Manzano scientific advisor Irene Lapuente Project advisor Victor Molina Legal adviser Cristina Soler Production assistant Marta Baran
with Àlex Serrano, Ferran Dordal, David Muñiz and voice Simone Milsdochter and in Paris Agathe de Wispelaere
---
COPRODUCTION Agrupación Señor Serrano – Grec 2016 Festival de Barcelona – Fabrique de Théâtre, service des Arts de la Scène de la Province de Hainaut – Festival TNT, Terrassa Noves Tendències – Monty Kultuurfaktorij – Festival Konfrontacje teatralne. WITH THE SUPPORT of the Cultural Bureau of the Spain Embassy in Brussels, ans the Cultura Departament from the Generalitat of Catalunya, of Centre International de Formation en Arts du Spectacle de Bruxelles, of Instituto Nacional de las Artes Escénicas y la Música (INAEM) and Institut Ramon Llull. MINIATURES ANIMALS SPONSOR Safari Ltd. MANAGEMENT AND TOUR Art Republic. WITH THE SUPPORT OF CHANTIERS D'EUROPE Embassy of Spain in France, Institut Ramon Llull.