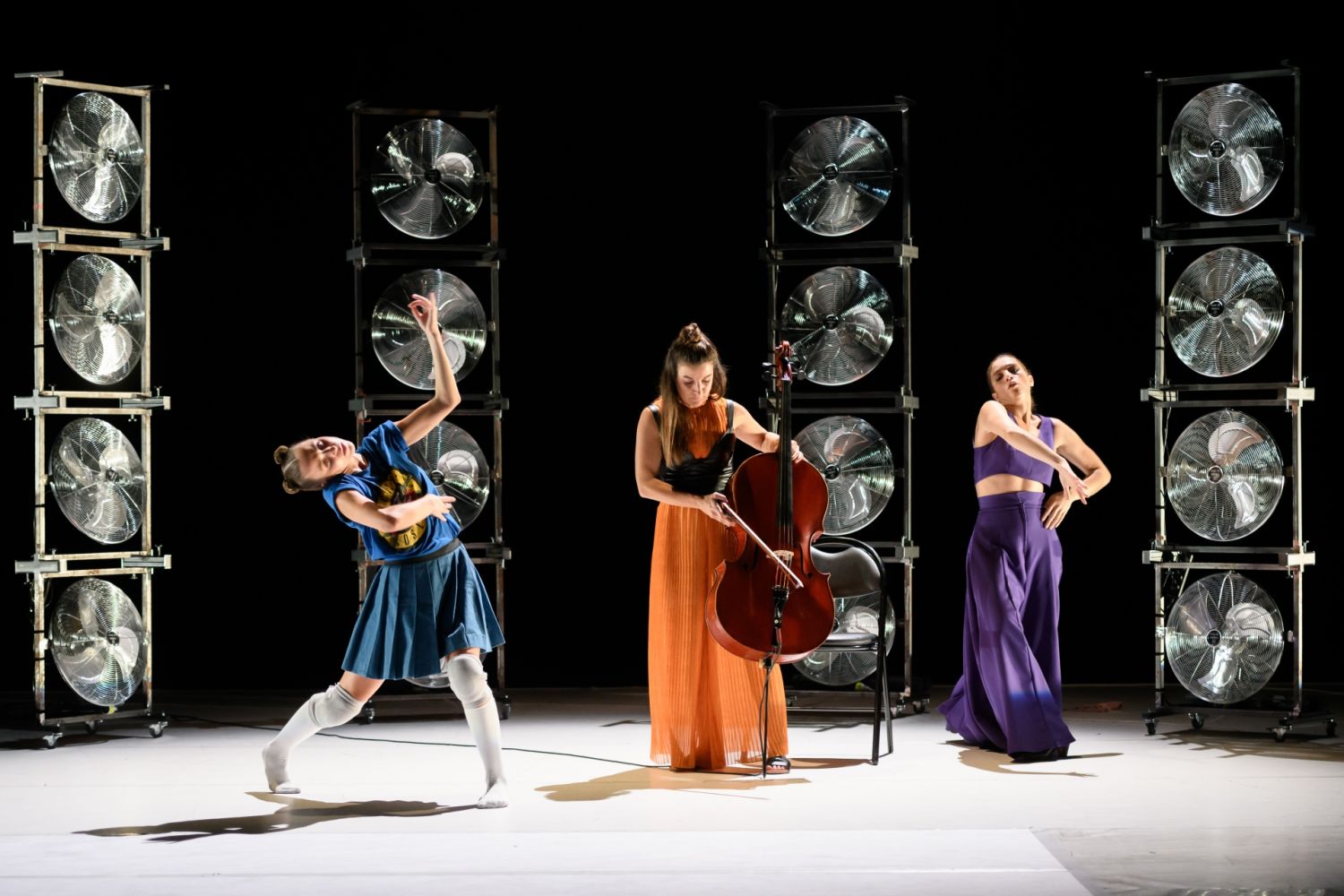 YOU ARE YOU AND ME I'M ME
Wang Ramirez has produced a magnetic trio ranging through hip hop, flamenco and cello. Three musical bodies celebrate differences and attachment.
One success story may overshadow another. In 2015, Honji Wang and Sébastien Ramirez had the clever idea of the duo Felahikum, an intense dialogue between Wang and the great Rocío Molina, producing brilliance when hip hop met flamenco. YOUME follows on with another face-to-face encounter between two powerful female figures, alternately bellicose and allies, genuine modern-day Amazons: Sara Jimenez, the star of the Ballet Flamenco de Andalucía, and Kalli Tarisidou from the hip hop company Flying Steps. Navigating through influences between two cultures, between two personalities, they lead to an encounter with a third universe, the domain of the cello, as played on stage by Elsa Guiet, a character in her own right. Joined together in mutual trust, they have created a poetic first person plural from the depths of their imaginations and private recollections.
---
REPRÉSENTATION EN AUDIODESCRIPTION
le samedi 23 avril à 15h précédée d'une visite tactile
En partenariat avec Accès culture, des spectacles de théâtre et de danse sont proposés en audiodescription par un système de casque à haute fréquence. Une approche tactile du décor est organisée avant la représentation.
Réservation de l'audiodescription : csimon@theatredelaville.com / téléphone : 01 48 87 59 50
Un tarif préférentiel est accordé pour la personne aveugle ou malvoyante et son accompagnateur.
Schedules
14:30, 15:00, 20:00
Language
In audiodescription
CONCEPTION & DIRECTION ARTISTIQUE Wang Ramirez
CHORÉGRAPHIE HONJI WANG // ASSISTANT CHORÉGRAPHE MARCO DI NARDO // SCÉNOGRAPHIE WANG RAMIREZ // DRAMATURGIE WANG RAMIREZ // MUSIQUE ELSA GUIET, FERNANDO EGOZCUE FOLGUERAS, PABLO MARTIN // CRÉATION SON JAVIER ALVAREZ // LUMIÈRES GUILLAUME BONNEAU // COSTUMES ANNAMARIA DI MAMBRO
AVEC SARA JIMENEZ, KALLI TARASIDOU, ELSA GUIET VIOLONCELLE
Wed 20 Apr 2022
8:00 PM
10 € to 30 €
Full
Tickets on sale on-site before each performance.*
Thu 21 Apr 2022
2:30 PM
10 € to 30 €
Full
Tickets on sale on-site before each performance.*
Thu 21 Apr 2022
8:00 PM
10 € to 30 €
Full
Tickets on sale on-site before each performance.*
Fri 22 Apr 2022
8:00 PM
10 € to 30 €
Full
Tickets on sale on-site before each performance.*
Sat 23 Apr 2022
3:00 PM
10 € to 30 €
Full
Tickets on sale on-site before each performance.*
Sat 23 Apr 2022
8:00 PM
10 € to 30 €
Full
Tickets on sale on-site before each performance.*
Mon 25 Apr 2022
8:00 PM
10 € to 30 €
Full
Tickets on sale on-site before each performance.*
Tue 26 Apr 2022
8:00 PM
10 € to 30 €
Full
Tickets on sale on-site before each performance.*
Wed 27 Apr 2022
8:00 PM
10 € to 30 €
Full
Tickets on sale on-site before each performance.*
Thu 28 Apr 2022
8:00 PM
10 € to 30 €
Full
Tickets on sale on-site before each performance.*
Fri 29 Apr 2022
8:00 PM
10 € to 30 €
Full
Tickets on sale on-site before each performance.*
Sat 30 Apr 2022
3:00 PM
10 € to 30 €
Full
Tickets on sale on-site before each performance.*
*Within available seats limit