Saison 2022-2023
Aurélien Bory, Shantala Shivalingappa
aSH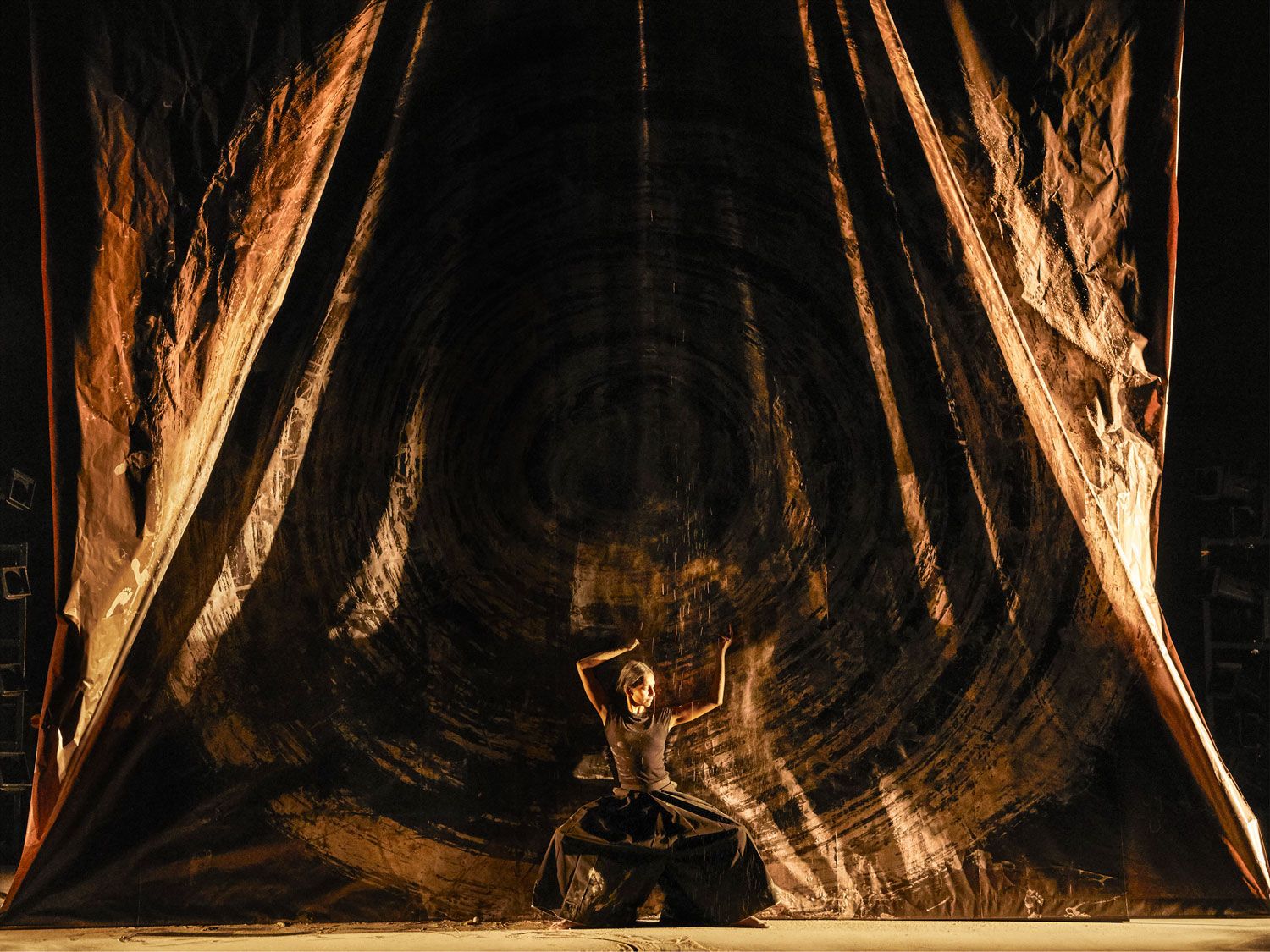 Divine presences are felt on ash-covered ground for a performance of dance, visual art and music, as a contemporary bayadere maintains a dialogue with a frenzied flamenco beat.
For Hindus, ash symbolizes the cycle of life and death. But aSH also means "for Shantala" [à Shantala] for the Frenchman Aurélien Bory who has presented Shantala with the solo. The dancer greets Shiva, going to the point of superimposition in a technique similar to filigree, in a perfect balance between roots and modernity, as she performs Kuchipudi from Andhra Pradesh, a traditional dance that she has revived with elements from the present. With purity of movement and the soul of a warrior, she captures divine vibrations to decorate the ash floor of a mandala in a sound landscape generated live. A distant echo back stage offers a flamenco beat responding to her feet stamping.
ORIGINAL IDEA, SCENOGRAPHY & DIRECTION Aurélien Bory
WITH Shantala Shivalingappa
ARTISTIC COLLABORATION TAÏCYR FADEL / LIGHTING ARNO VEYRAT / MUSICAL COMPOSITION JOAN CAMBON / SET DESIGN PIERRE DEQUIVRE & STÉPHANE CHIPEAUX-DARD / COSTUMES MANUELA AGNESINI WITH THE INVALUABLE ASSISTANCE OF NATHALIE TROUVÉ
WITH SHANTALA SHIVALINGAPPA, LOÏC SCHILD PERCUSSIONS
PRODUCTION Compagnie 111-Aurélien Bory. COPRODUCTION ThéâtredelaCité, CDN Toulouse Occitanie – Festival Montpellier Danse 2018 – Agora, PNAC Boulazac-Nouvelle-Aquitaine – La Scala, Paris – L'Onde Théâtre Centre d'Art de Vélizy- Villacoublay. AVEC LA PARTICIPATION ARTISTIQUE DE l'ENSATT, Lyon. ACCUEIL EN RÉPÉTITIONS EN RÉSIDENCES La nouvelle Digue, Toulouse – ThéâtredelaCité, CDN Toulouse Occitanie. La Compagnie 111-Aurélien Bory est conventionnée par la direction régionale des Affaires culturelles Occitanie/ministère de la Culture, la région Occitanie / Pyrénées-Méditerranée et la mairie de Toulouse. Elle reçoit le soutien du conseil départemental de la Haute-Garonne et de l'Institut français.
Tue 14 Feb 2023
8:00 PM
10 € à 30 €
Full
Tickets on sale on-site before each performance.*
Wed 15 Feb 2023
8:00 PM
10 € à 30 €
Full
Tickets on sale on-site before each performance.*
Thu 16 Feb 2023
8:00 PM
10 € à 30 €
Full
Tickets on sale on-site before each performance.*
Fri 17 Feb 2023
8:00 PM
10 € à 30 €
Full
Tickets on sale on-site before each performance.*
Sun 19 Feb 2023
3:00 PM
10 € à 30 €
Full
Tickets on sale on-site before each performance.*
Mon 20 Feb 2023
8:00 PM
10 € à 30 €
Full
Tickets on sale on-site before each performance.*
Tue 21 Feb 2023
8:00 PM
10 € à 30 €
Full
Tickets on sale on-site before each performance.*
Wed 22 Feb 2023
8:00 PM
10 € à 30 €
Full
Tickets on sale on-site before each performance.*
*Within available seats limit