Saison 2022-2023
Dans la solitude des champs de coton
Bernard-Marie Koltès, Kristian Frédric, Enki Bilal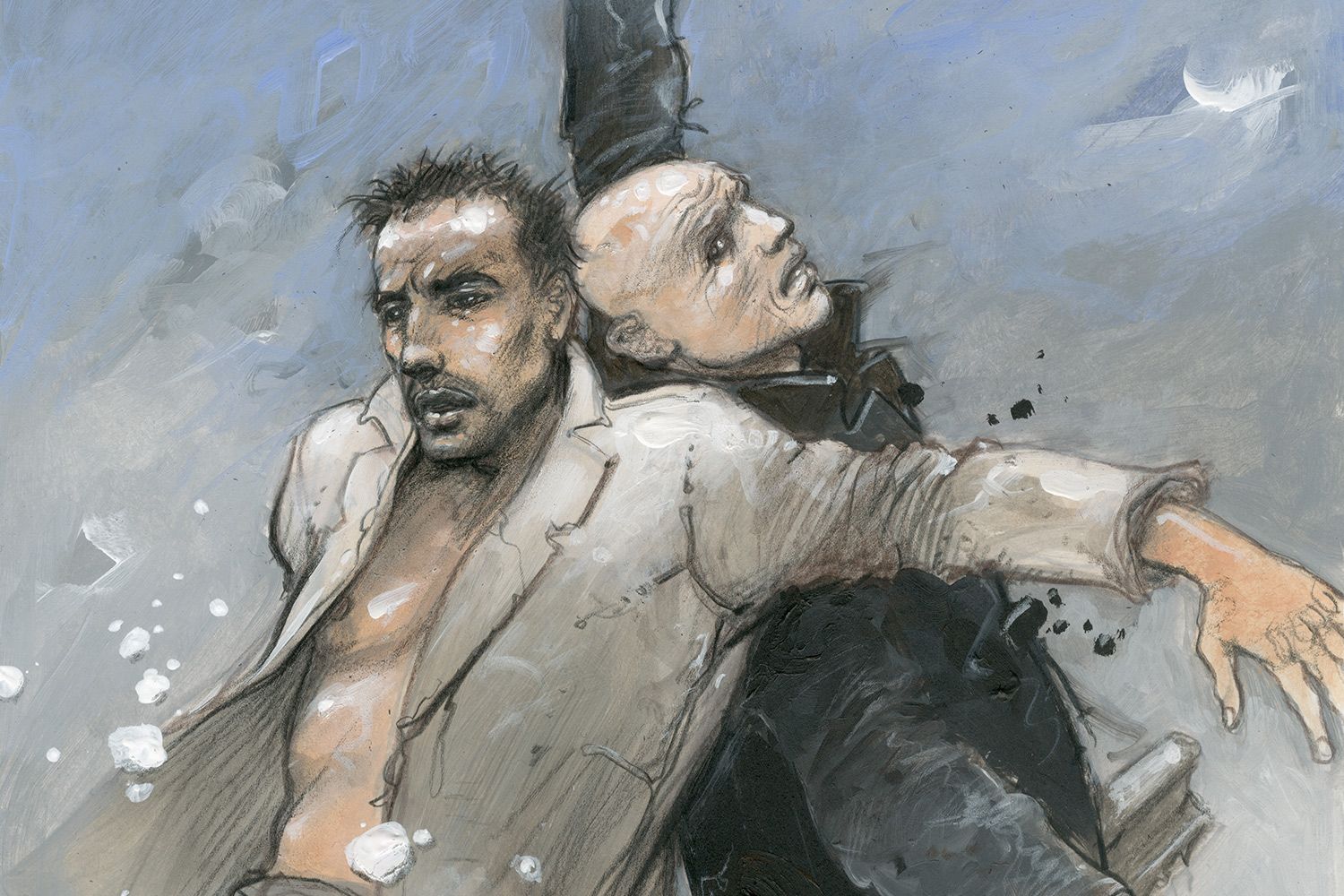 A fierce battle, gloves off, between souls, between two strangers. What is at stake? The meaning of life.
The combat is never ending, and the language of Koltès is magnificent and incisive. For a long time Kristian Frédric had been fascinated, haunted by the work. The man who has crossed so many stages in the theaters of Europe sees the verbal clash between the Dealer and the Client as a mystical struggle, where desire and death observe and confront one another. He sees the challenge set on the banks of a timeless River Styx, as the elements rage, where we can no longer choose delusion, where we can no longer retreat. As partners he has chosen the powerful, radical universe of Enki Bilal, and the muted musicality of vector-actors armed with words, eminently contemporary words.
---
TEXT Bernard-Marie Koltès
DIRECTION Kristian Frédric
SET DESIGN & COSTUMES Enki Bilal
LIGHTING YANNICK ANCHÉ ORIGINAL SOUND & MUSIC HERVÉ RIGAUD DIRECTOR'S ASSISTANT ALESSANDRA DOMENICI SET ASSISTANT PHILIPPE MIESCH
WITH XAVIER GALLAIS, IVAN MORANE & WITH L'AIMABLE PARTICIPATION DE TCHÉKY KARYO (SPOKEN VOICE & SINGING)
PRODUCTION Cie Lézards Qui Bougent Fabrik Théâtre Opéra, Bayonne. COPRODUCTION Théâtre de la Ville-Paris – Scène nationale Espace Legendre, Compiègne – Théâtre d'Aurillac, scène conventionnée – MAC Créteil – La MAL Thonon Évian – Studio Grande Armée, Neuilly-sur-Seine. AVEC LE SOUTIEN DE Oara-Office artistique de la région Nouvelle-Aquitaine.

Tue 14 Mar 2023
8:00 PM
10 € à 30 €
Full
Tickets on sale on-site before each performance.*
Wed 15 Mar 2023
8:00 PM
10 € à 30 €
Full
Tickets on sale on-site before each performance.*
Thu 16 Mar 2023
8:00 PM
10 € à 30 €
Full
Tickets on sale on-site before each performance.*
Fri 17 Mar 2023
8:00 PM
10 € à 30 €
Full
Tickets on sale on-site before each performance.*
Sat 18 Mar 2023
8:00 PM
10 € à 30 €
Full
Tickets on sale on-site before each performance.*
Mon 20 Mar 2023
8:00 PM
10 € à 30 €
Full
Tickets on sale on-site before each performance.*
Tue 21 Mar 2023
8:00 PM
10 € à 30 €
Full
Tickets on sale on-site before each performance.*
Wed 22 Mar 2023
8:00 PM
10 € à 30 €
Full
Tickets on sale on-site before each performance.*
Thu 23 Mar 2023
8:00 PM
10 € à 30 €
Full
Tickets on sale on-site before each performance.*
Fri 24 Mar 2023
8:00 PM
10 € à 30 €
Full
Tickets on sale on-site before each performance.*
Sat 25 Mar 2023
3:00 PM
10 € à 30 €
Full
Tickets on sale on-site before each performance.*
Mon 27 Mar 2023
8:00 PM
10 € à 30 €
Full
Tickets on sale on-site before each performance.*
Tue 28 Mar 2023
8:00 PM
10 € à 30 €
Full
Tickets on sale on-site before each performance.*
Wed 29 Mar 2023
8:00 PM
10 € à 30 €
Full
Tickets on sale on-site before each performance.*
*Within available seats limit