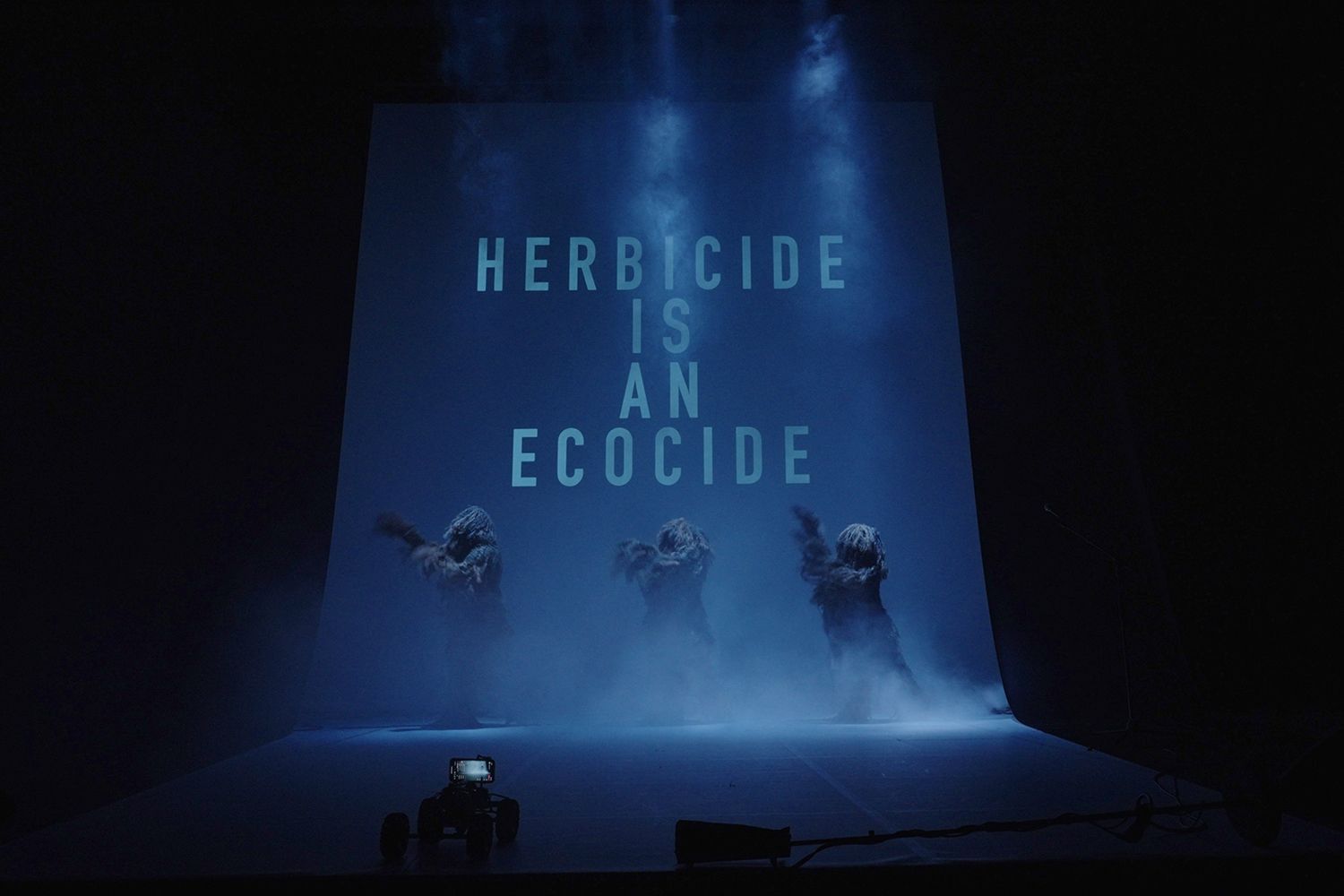 Crazy creatures, part-human part-plant, perform post-Anthropocene song, slam and dance.
Rocio Berenguer is a universal artist casting the human dimension onto a trans-species world set somewhere between fact and fiction, a world where there are no more distinctions based on gender, or between nature and technology, between a concert performance as a grand collective rite and a performance of dance, theater or poetry. Nor are there distinctions between fine minds and "bad weeds." Quite the contrary! There is fun to be had together when a new non-anthropo¬centric world can flourish, a world of charming, wonderfully fuzzy, hairy "smart mushrooms."
WRITING, DIRECTION, CHOREOGRAPHY Rocio Berenguer
WRITING, DIRECTION, CHOREOGRAPHY - Rocio Berenguer
OUTSIDE ADVISOR & DRAMATURGY - Marja Christians MUSICAL COMPOSITION - Baptiste Malgoire, KillaSon, Rocio Berenguer LIGHTING - Thomas Laigle SOUND - Emil Baghino COSTUME - Aline Pérot alias Femme d'intérieur VIDEO - Nayan Ducruet with the participation of children from the primary school Condorcet, Poitiers. WITH THE DANCERS - Haini Wang, Julien Moreau, Marcus Dossavi-Gourdot, Amandine Balet
Production - Lucie Palazot, Cie Pulso 2023
COPRODUCERS AND PARTNERS : PREMIERE THÉÂTRE DE LA VILLE, PARIS, FRANCE, TEATROS DEL CANAL, MADRID, ESPAGNE, MILLE PLATEAUX, CCN DE LA ROCHELLE, FRANCE, LE LIEU MULTIPLE/ ESPACE MENDÈS FRANCE, LA MAISON DES ETUDIANTS, LA FANZINOTHÈQUE CONFORT MODERNE, POITIERS, FRANCE, LA GRANGE CENTRE / ART ET SCIENCES / UNIL LAUSANNE, SUISSE, AADN, LYON FRANCE.2020 RECHERCHE : THÉÂTRE NOUVELLE GÉNÉRATION, CDN LYON, ADNDANCE LIVING LAB, ATELIER B - MATRICE
COPRODUCTION POUR LA RECHERCHE THÉÂTRE NOUVELLE GÉNÉRATION, CDN LYON, ADNDANCE LIVING LAB, ATELIER B - MATRICE.
With the support of SPEDIDAM,
Thu 4 May 2023
7:00 PM
10 € à 22 €
Fri 5 May 2023
7:00 PM
10 € à 22 €
Sat 6 May 2023
7:00 PM
10 € à 22 €