Saison 2022-2023
ZOO / OR THE PHILANTHROPIC MURDERER
Vercors, Emmanuel Demarcy-Mota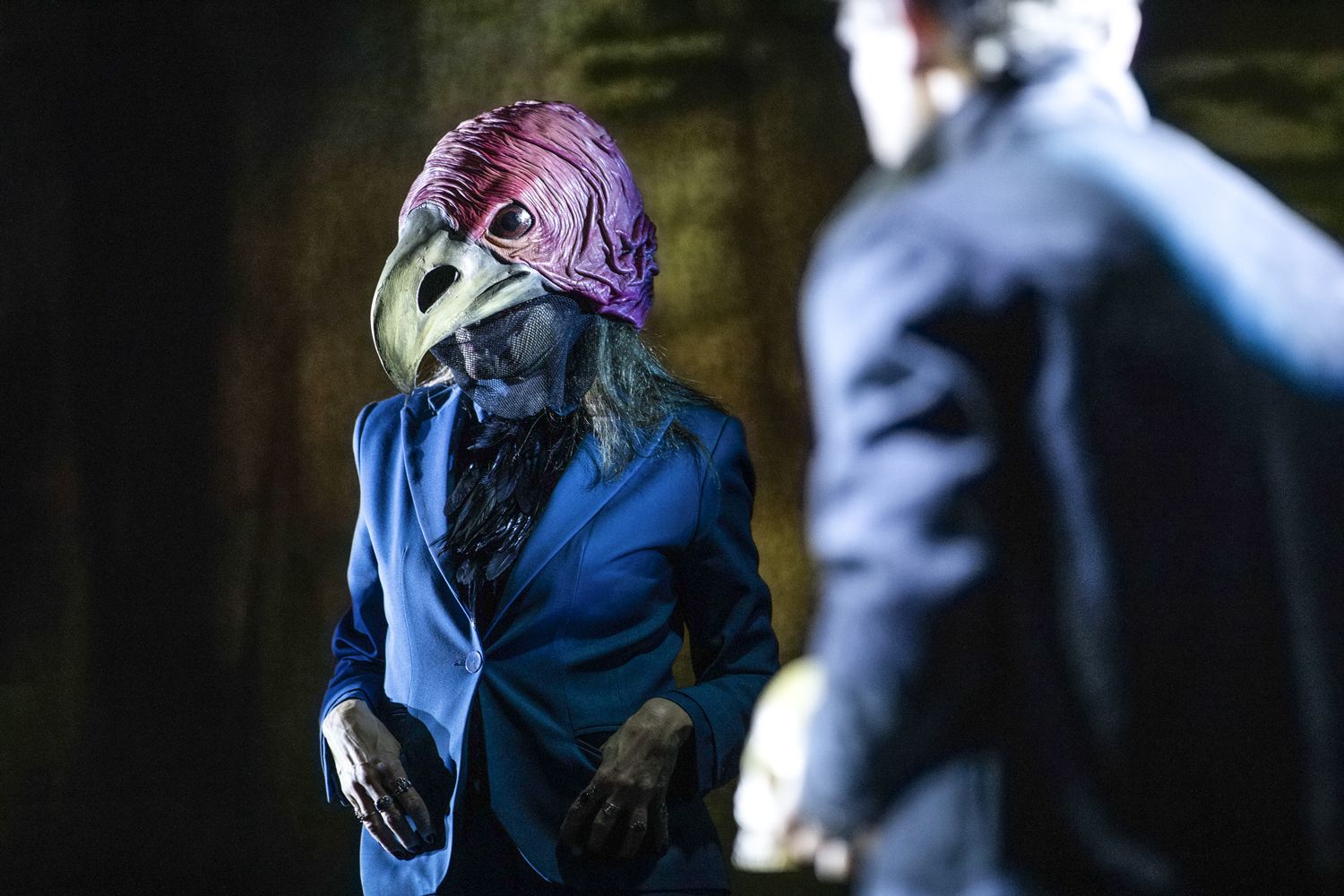 A legal investigation into what makes human identity and what the future holds for it. A fable of philosophy and fantasy based on the novel Unnatural Animals.
ZOO conjures up our past and drafts our future, using both fantasy and knowledge to address the question so topical today on the links between animals and humans.
The play stands as a fascinating and modern intellectual adventure that includes the most recent advances in science and philosophy.
The scene on stage is a trial: the reporter Douglas Templemore has deliberately killed his child with poison. But the child looks strangely like an ape, and the mother is a tropi. Is the infant really a human being?
---
TÉLÉRAMA
With magical chiaroscuro and an esthetic choice embracing fact and fiction, plus input from the successful collaboration with figures from the world of science and healthcare, Emmanuel Demarcy-Mota has made a daring production to inspire reflection and reverie.
---
LE MONDE
Zoo performed with speed and agility (…) has the audience in suspense. Emmanuel Demarcy-Mota has mastered the art of inspiring his actors who convey the voice of Vercors, the author of the text. Fifty years on, the call to resist is still heard.
---
BASED ON "ZOO OR THE PHILANTHROPIC MURDERER" AND "UNNATURAL ANIMALS" BY Vercors DIRECTION Emmanuel Demarcy-Mota
DIRECTOR'S ASSISTANT JULIE PEIGNÉ ARTISTIC COLLABORATORS CHRISTOPHE LEMAIRE, FRANÇOIS REGNAULT SCIENTIFIC ADVISORS CARINE KARACHI, JEAN AUDOUZE, MARIE-CHRISTINE MAUREL, GEORGES CHAPOUTHIER SCENOGRAPHY YVES COLLET, EMMANUEL DEMARCY-MOTA LIGHTING CHRISTOPHE LEMAIRE, YVES COLLET MUSIC ARMAN MÉLIÈS COSTUMES FANNY BROUSTE SOUND FLAVIEN GAUDON VIDEO RENAUD RUBIANO HAIR & MAKE-UP CATHERINE NICOLAS MASKS ANNE LERAY ACCESSORIES ERIK JOURDIL
WITH LA TROUPE DU THÉÂTRE DE LA VILLE MARIE-FRANCE ALVAREZ, CHARLES-ROGER BOUR, CÉLINE CARRÈRE, JAURIS CASANOVA, VALÉRIE DASHWOOD, ANNE DUVERNEUIL, SARAH KARBASNIKOFF, STÉPHANE KRÄHENBÜHL, GÉRALD MAILLET, LUDOVIC PARFAIT GOMA, MATHIAS ZAKHAR
PRODUCTION Théâtre de la Ville-Paris. COPRODUCTION Musée d'Orsay, Paris.

Wed 5 Oct 2022
8:00 PM
10 € à 30 €
Thu 6 Oct 2022
8:00 PM
10 € à 30 €
Fri 7 Oct 2022
8:00 PM
10 € à 30 €
Sat 8 Oct 2022
8:00 PM
10 € à 30 €
Tue 11 Oct 2022
8:00 PM
10 € à 30 €
Wed 12 Oct 2022
8:00 PM
10 € à 30 €
Thu 13 Oct 2022
8:00 PM
10 € à 30 €
Fri 14 Oct 2022
8:00 PM
10 € à 30 €
Sat 15 Oct 2022
3:00 PM
10 € à 30 €
Sat 15 Oct 2022
8:00 PM
10 € à 30 €
Sun 16 Oct 2022
3:00 PM
10 € à 30 €
Tue 18 Oct 2022
8:00 PM
10 € à 30 €
Wed 19 Oct 2022
8:00 PM
10 € à 30 €
Thu 20 Oct 2022
8:00 PM
10 € à 30 €
Fri 21 Oct 2022
8:00 PM
10 € à 30 €
Sat 22 Oct 2022
8:00 PM
10 € à 30 €